You have a large number of options while looking for a Mac software to manage PDF files. As you know, PDF has been the standard of documents when you want to keep them multi-platform compatible. That said, it's not the same when you want to edit some PDF files. We are not saying that there are no Mac-based editors for PDF files — we are talking about the effective ones. Normally, it would be quite a tough task to find some of the perfect PDF editors for your macOS device, right? Don't worry. We have created a list of the best six PDF editors for Mac you can check out. We have included only the trusted and performance-friendly ones in the list so that you can stay confident.
PDFelement for Mac is the perfect, complete and effective solution to edit PDF files in your MacBook or an iMac. The best part is that it doesn't restrict the features to content editing or page management. There's a wider range of actions you can do with this program. Just to get the basics right, you can edit PDF, create a PDF file and even Convert them into another format. In other words, PDFelement for Mac and PDFelement Pro for Mac can help you with all your needs of PDF management.

It has been designed in such a way that you can unleash 100% productivity. You get an interface that needs no introduction or explanation. The UI is relatable with MS Office UI, with different menus under different tabs. Altogether, you'd find it easy to edit PDF files using this program. Coming to content editing, you have a bunch of features to check out. You can select any content — be it text, image or something else —, edit, remove or replace them from the main UI. All the controls are available via the right sidebar.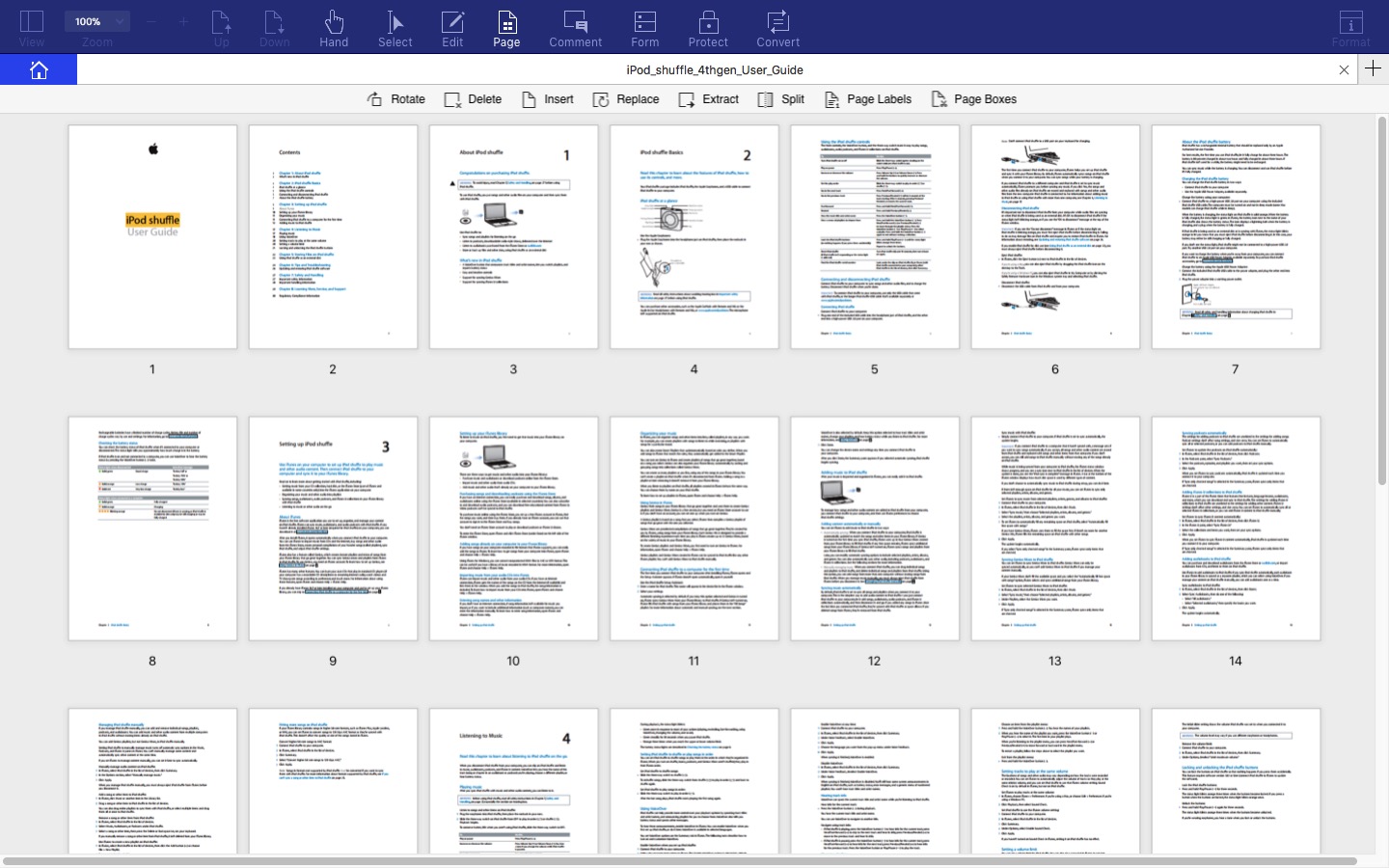 Of course, you can change the font, color, make it Italics or Bold. Everything happens in a flash, without much time. In addition, you can insert Watermark, Background, Footer, Header and Links etc. You can also insert a variety of shapes, text box, Text comments and even Sticky notes. Of course, you can include the options like Stamp and Signature. The best part about PDFelement for Mac is that it lets you customize all sections. It does not matter whether you're inserting a shape or some text, you have full control over content.

As said earlier, PDFelement for Mac also lets you manage other sections like Pages and Forms. There are a few awesome features to protect your PDF files — options like Sign, Password, Permissions, Advanced Print and Sharing. All these would come in handy when you have some official documents to take care of. Just so you know, the conversion speed of PDFelement for Mac is quite better than other PDF editors we have seen so far.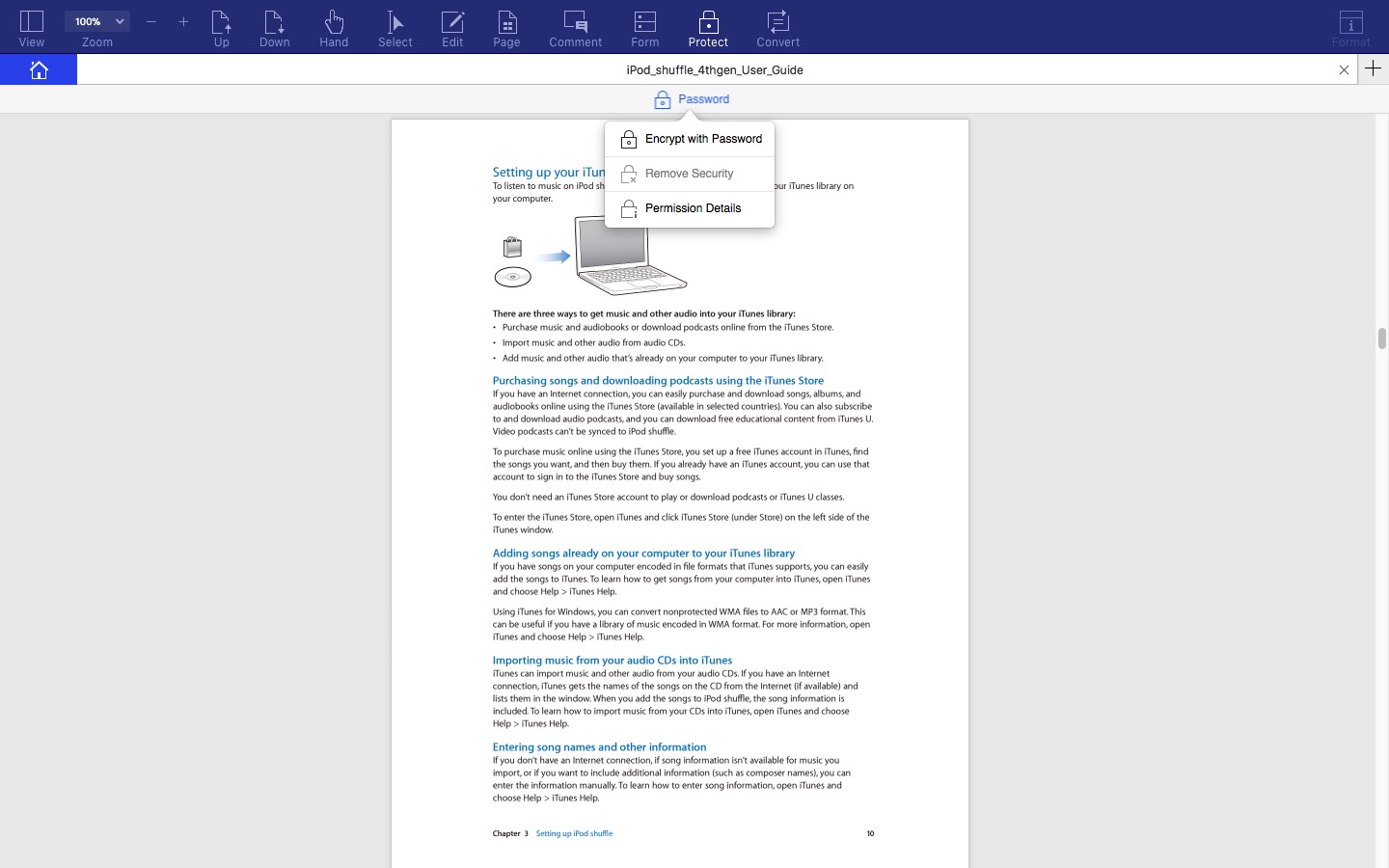 By the way, if you are looking for advanced features, you should also check out PDFelement Pro 6 for Mac, which is available for $99.95. You get options like Optical Character Recognition, Batch Processing PDF, Form Data Extraction, Scanner to PDF conversion, Automatic Form Recognition and File Size Optimization. If you want to manage multiple PDF files at a time, you can count these features in. Compared to the features it offers, it's one of the most reasonable deals when it comes to PDF editing tools. By spending a few dollars extra, you get features like OCR and bulk file management options. These features are suitable for organizational-level management of PDF files. The comparison between Standard version and Pro version please visit here.
Pros: Feature-rich, Smoother management of PDF files, Intuitive UI and Bulk Processing Options
Cons: None

One of the most acclaimed PDF editors, PDFExpert for Mac is a great choice when you need smooth as well as powerful editing tools. What we love most in the program is the simple UI it offers. With different page-layouts and viewing modes, you can manage multiple PDFs without hassle. It also packs some extra bunch of features like eye-friendly reading mode and extensive annotation options. It will be a great choice if you need a powerful PDF reader-cum-editor. Apart from the smooth rendering and editing, it has some cooler features too.
For instance, editing is quite accurate in PDFExpert for Mac. You won't get confused between two element sections in the page. Just in case you are wondering, you get all the basic editing features like Text, Images and even Links. The best part, you can use the same tool for reducing the file size of PDF files. It also packs a few dedicated features for PDF form filling and digital signature. Once set up, you will find it easy to sign all your documents digitally. Considering all these, we believe PDFExpert for Mac is a great choice for those who need better control.
Pros: Simple UI, Customizable Viewing Modes, Quick Rendering
Cons: Lacks advanced editing features.
If you don't mind spending a bit more, you can consider PDFpen as your next PDF editor for Mac. It packs all the features you need for making the PDF file your own, starting from basic editing to OCR. What's more, it even lets you proofread the OCR text, so that there are no errors. In each category, PDFpen offers some new features that are worth talking about. For instance, if we take OCR section, PDFpen offers support for many types of scanned images. Thanks to the pop-up menus, the editing is process is equally simple.

PDFpen comes with a native-like UI, which does not take much time to get used to. You can access all those mentioned features from the tabbed structure, while the sidebar allows seamless navigation between pages of the document. Apart from the big guns, there are some subtle features that we loved in PDFpen, such as the Guide for placing things. When you want to create a well-designed PDF for professional needs, you can count on PDFpen for that.
Adobe Acrobat DC has been the gold standard when it comes to PDF. There is an off chance that you're still using Adobe Acrobat to view PDF files on your Mac, even when it has the default PDF opener, Preview. As it happens, Adobe Acrobat DC has some good amount of tools for PDF editing. The notable advantage here is that you can use a single tool for viewing and editing PDF files, and the editing features can be accessed via the Sidebar. In association with Creative Cloud, you get better integration and signing options as well.

Despite the best UI for viewing PDF file, Adobe Acrobat DC performs worse when it comes to editing interface. It needs some serious work on the arrangement of features. You will have a hard time in accessing the features, as each of them are available individually. Another downside here is that you have to subscribe to a relatively expensive package if you need the benefits from Adobe Acrobat DC. Don't expect to pay some bucks to keep using the program for all your life. So, unless you have a few hundred dollars to shell out every year, Acrobat isn't a great choice.
Pros: Comes with an in-built Viewer, It's by Adobe, Integration with Creative Cloud
Cons: Expensive, Hard-to-master UI
Yet another cool choice in the market, iSkysoft PDF Editor for Mac is a fully-fledged program that can let you edit every part of a PDF file. It lets you edit, convert and even secure the PDF files, quite easily — thanks to the awesome UI it has. Going inside, however, you will find some of the classy features inside the package. For instance, when it comes to Markup and Sign, iSkysoft PDF Editor for Mac gives you enough freedom for choosing a convenient mode.

The same number of features are present when it comes to ordering the PDF files and other issues. Again, it lacks some features, which are available in an even expensive package. It wouldn't be wrong to say that the pricing isn't that impressive when compared to the other choices here. Still, the overall usability is so good that you may not care for the small glitches. Just like our top pick, iSkysoft PDF Editor for Mac comes with a UI that is similar to Office suite, which is quite productive.
Pros: Office-like Interface, Easier Management
Cons: Lacks advanced features
#6 Preview
Preview, as you know, is the default program in macOS to view images and PDF files. Although not a feature-rich and fully-fledged editor, you can use Preview for making changes to your PDF files. If you were planning to create a brand-new PDF files, Preview isn't the best choice for sure. On the other hand, if you just want to highlight some text, add some new shapes and even add your own Signature into the required fields, you can count on Preview.

If you have used Preview, you know how good of a UI it is. You can use the same UI for navigation when you want to edit some files. So, that's a good thing there. Apart from these minimal features, Preview offers one thing that nothing else can — native behavior. You are going to use a software that was made by Apple, for Apple devices. Compared to most PDF editors out there, this gives Preview an upper-hand. So, if you need a bunch of annotation options, go for Preview, period. And, since you already paid for the Mac, you don't have to pay for this — another good thing, yay.
Pros: Native macOS app, Smooth rendering
Cons: Lacks proper editing features, offers basic annotation only.
The Bottom Line
These are some of the finest options you have when you are looking for the best PDF editors for Mac. We've tried to include as many types of programs as we can, each made for one need.