What would you do if you lost your back up password protection on iTunes? You are worried about how to unlock iTunes backup and searching for useful methods online. Now, you can calm down yourself and try the following solutions.
Solution 1: Test all the passwords you know
It seems to be a stupid way to test all the passwords you know. But when you calm down, it will be of more luck to find back your iTunes backup password. In our daily life, we always find back the lost thing when we are almost giving up. Therefore, nothing is impossible. You can try your iTunes store password, Apple ID password or even your Windows 10 login password. It is also possible to try the same password you set for website registration. All in all, think over which password you will use and test it. Perhaps, you will succeed after several attempts.
It needs time to test all possible passwords. However, if you want to recover iTunes backup password quickly, you can try iSunshare iTunes Password Genius. It is the easy-to-use software which can help you to find back iTunes backup password in minutes on Windows 10 computer.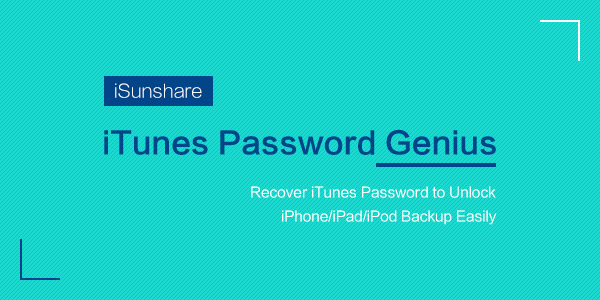 Considering the safe of your computer, you should download iSunshare iTunes Password Genius from its homepage. Here you can choose to download the trial version. But it only suits for recovering password which concludes no more than 3 characters. If your password is longer than 3 characters, you should buy it. After all, it is affordable for everyone.

Click Open button and this iTunes password recovery tool will help you find the possible or latest iTunes backup file. If you can not find your iOS devices there, you can add file manually and import it.

Step 3: Choose your iTunes backup password recovery type
There are 4 iTunes backup password recovery types: Brute-force, Mask, Dictionary and Smart. You can choose one and customize the password range and password length to help recovering the password as soon as possible. For example, if you remember part of the passwords, you can choose Mask type and set Mask parameter like "7w???"."?" is used to instead of forgotten character.

Step 4: Click Start and wait for your password
Once youclick Start,iSunshare iTunes Password Genius will help you to test all possible passwords and find your right one in minutes. Then, you can use it to unlock your iTunes backup.
Conclusion
iSunshare iTunes Password Genius just helps you to speed up the test of all possible passwords. It is a reliable iTunes password recovery tool that helps you to solve iTunes password forgotten issue. There is no doubt that it is a time-saving solution. Try immediately and you will find how useful it is!