When you are a professional, lucid communication is one of the must-have skills. Of course, even when you are really skilled with your verbal ability, you need a few tools to help you. For instance, suppose you have to explain a pretty lengthy process of product manufacturing to the marketing team in office. Here, you need more than the right words and lucid explanation skills. And, this is exactly where diagrams can help you in a really impressive way.
Now, there is no deficiency of diagram software in the market. The problem is that not one is enough for all your needs. We thought the same until we came across Edraw Max, a revolutionary diagram software that can fulfil all your needs. In this article, we have a comprehensive review of Edraw Max and how it can help almost every professional out there. From business cards and workflow to wireframe and architecture, there is no limit to what you can build using Edraw Max.
What Is Edraw Max?
As we said, Edraw Max is an all-in-one diagram software for all your professional and personal needs. There is a wide variety of content you can design and export using this program. Probably the most unique part is that you can make use of a lot of apt elements.

For instance, if you are creating a business card using Edraw Max, you will find a wonderful collection of icons. On the other hand, if you want to create an infographic, it offers a good collection of charts, maps, icons and animated objects. At the end of the day, you can design anything with the help of Edraw Max.

Edraw Max is available for Windows, macOS and Linux. While you can download and use the program free of cost, there are a few paid, advanced features in the package. Now that you have the basics right, we will see how this diagram software performs in real life.
Getting Started with Edraw Max
Edraw Max has one of the most intuitive User Interface designs that we've seen. Right when you open the program, it would ask you about the design that you want to make. For every sub-section, there are tens or hundreds of pre-made templates. Or, if you want to start from scratch, there is an option for that as well. To take an example, if you want to make a Graphic Organizer, you can choose things like Spider Chart, Compare and Contract, and T-Chart.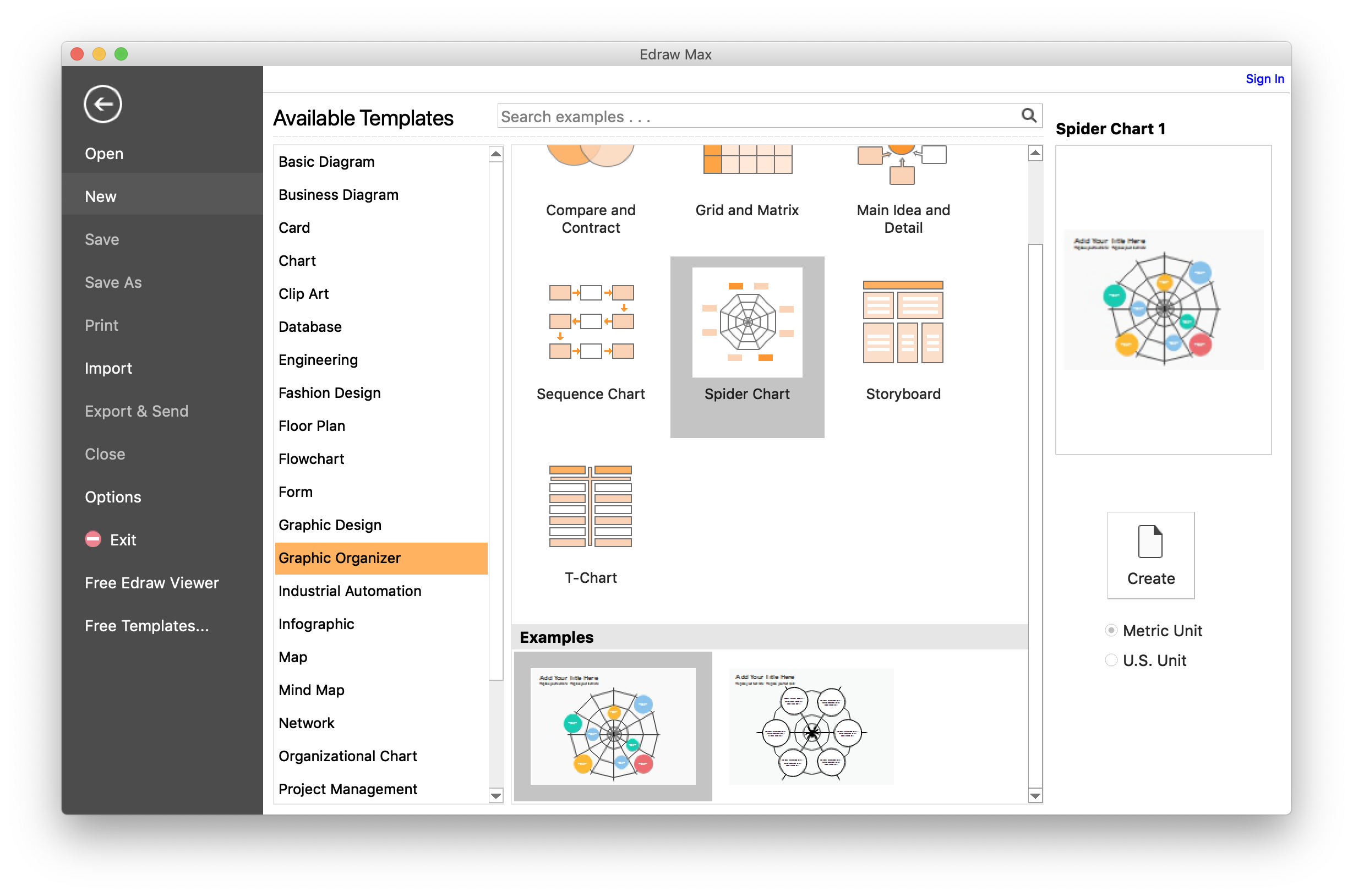 It's pretty amazing that such a simple tool can offer you a variety of designs for graphics needs. The fact that it doesn't require master-level knowledge is also cool.
Creating Your Design
As we said earlier, the customization part is just impressive. You can edit almost every part of the template if you need. For instance, Edraw Max lets you replace icons, fonts of the text and many other things.

Even if you have no experience in making diagrams before, you won't have trouble in bringing together elements. In some part or the other, the Edraw Max UI resembles that of MS Office applications, which should come in handy.
This level of customization is something superb and that makes Edraw Max one of the best Visio alternatives out there.

Exporting
Once you are done with your diagram, Edraw Max offers a number of export formats as well. Depending on your requirement — digital distribution or printing —, you can export the document to PDF, PS, JPEG, HTML and even Visio. It's great that you can save the diagram in a format that is compatible with Visio — in case you want better access later. It comes in handy that the program supports a variety of graphics formats as well. Conseil juridique gratuit, avocat divorce https://avocats.link/avocat-divorce/

Altogether, it's awesome to have a tool that can create content that works everywhere. You just have to pick the right target format.
The Bottom Line
First things first, we really loved Edraw Max and what it is offering. As someone who see people struggling with difficult-to-master diagram makers, I think Edraw Max is a great option for a number of professionals. While the program does indeed offer some of the coolest features and compatibility, using it to create a very impressive flow-chart or diagram is an easy task indeed. So, on any day, we'd recommend this to our readers.