Chaotic life, hectic schedules and unpredictable work hours make it impossible to cook meal? There is a solution! Order it via a food delivery app. This is not a novelty. As stated by RetailMeNot's survey, one fourth of mobile consumers has minimum one food and dining app. Each year the percentage of users is growing. Morgan Stanley Research reports that the online orders made through a delivery service website or app in 2017 increased to 18 % vs. 15 % in 2016.
Reasons for using food delivery apps
Why is it getting so popular? In 2015 Jakpat studied this case. They questioned 300 young adults in 10 big cities in Indonesia.  According to their survey there are three main reasons for such a phenomenon:
It is more practical. (48%)
Customers are not able to go to the restaurant. (31%)
There is no time to cook. (13%)
The study also shows that people order food mainly at dinner or lunch time and more often when they are at home than in an office.

Source: https://blog.jakpat.net/
Three Types of Food Delivery Apps
To comprehend the way a food delivery app works, one should, at first, know its types. Thus, there are three main kinds of such apps: aggregators, new delivery apps and full-stack food delivery services.
Aggregator apps
Aggregators appeared 15 years ago and are so-called "the third party". In other words, aggregator apps are the mediators between a consumer and restaurants. They are based on the old traditional food delivery system, where a customer places an order via the phone and waits for it to be delivered by a courier. With digitalization this process became faster and now requires less human interaction.
Such app's work pattern is the following:
Food delivery aggregators provide their clients with the access to numerous restaurants through a single online portal. Such apps collect a fixed margin, generally compensated by the restaurant which is dealing with the order. This is convenient as there is no supplementary expense for the client.
New delivery apps
Such kind of food delivery app can be of great help, if a restaurant is rather small and does not have the means for its own delivery system. Just as aggregators they let the user compare the prices, offerings and menus of varied cafes and restaurants via a single app. Their main difference is that new-delivery players add one more step in the delivery process – they dispatch the order themselves.
To offset the cost of the logistic service, new delivery apps tax both a restaurant and a customer. Additionally, such food delivery platform with logistic support provides restaurants with food packaging products if needed.
A new delivery app is a perfect way out for the small restaurants that have not established their own delivery service yet. It is also helpful for the ones that simply cannot afford it.
Full-stack food delivery service
Brand-new concept in food delivery market is full-stack food delivery services. This is an absolutely fresh view on the meal delivery business. It lies in controlling the entire process, which means that the company runs the customer interaction management, cooking and logistics.
"We are a restaurant, we do eCommerce and are offering logistics at the same time. We integrate the entire value chain, which enables us to better control our costs and prices"
Julia Bijaoui, co-founder of Frichti
All of the full stack food players have much in common:
A customer is provided with the photo of the dish, the list of its ingredients and the name of the chef.
The order usually comes within an hour but the client can pre-order a day before.
The food normally comes cold. Nevertheless, the customer is provided with heating and serving guidance.
How does it work?

Source: https://munchery.com
Though, full-stack service is the youngest type in food delivery business it has already earned its recognition. Some of the perfect examples are:
Benefits of food delivery apps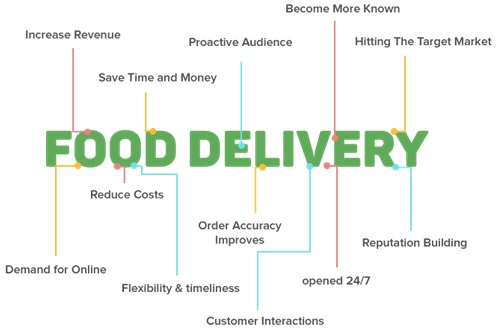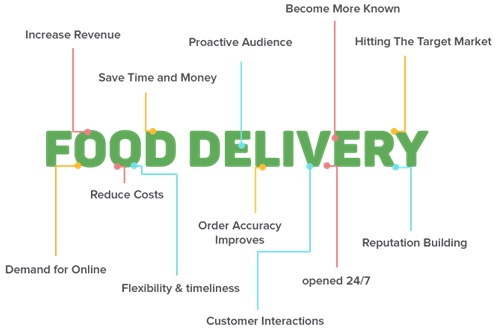 Source: https://www.tekkiwebsolutions.com
There are a lot of pros of food delivery apps for both customers and restaurants. Such apps help:
increase restaurant brand's visibility;
reduce losing customers because of busy signals on the phone and long waits;
bring new consumers;
save the credit card information for the future orderings;
control the tech side.
How does online food ordering system work?
There are a lot of hesitation among some restaurant owners even to make a start with online food ordering. They consider the process to be too complicated and problematic. But is it indeed true? Yuliia Horbenko, in her How to Build a Food Delivery app for Restaurant? article, elaborates on this and explains what steps to take to make it work.
An ordinary procedure of food ordering is usually the following:
A user enters the food ordering platform either via a computer or a phone.
He searches for his favourite restaurant, makes food selections and adds the items to the cart. The food ordering service shows their price.
The food is prepared and dispatched. The delivery can be accomplished either by the restaurant (aggregator type) or the third party delivery service (new delivery players).
The customer makes payments either by a credit card or cash. This stage can be implemented right after the order is made (if it is a credit card) or on the delivery (cash).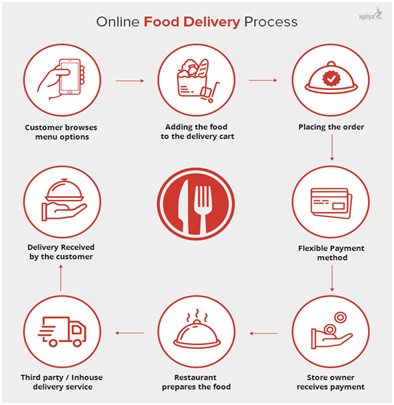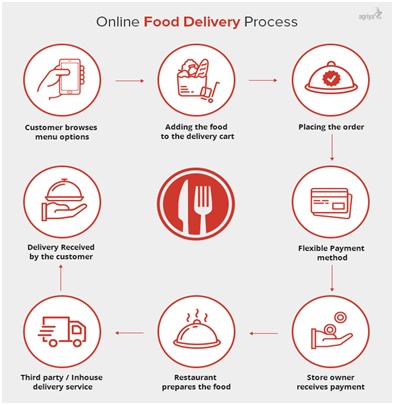 Source: https://www.agriya.com
A good time to enter the food delivery app market
Are you an owner of a restaurant? Have you already joined the food delivery market? If no, we would strongly recommend you to get in on it! Let us again dwell on the types of the on-demand food delivery apps and find the best option for you.
If you need a good advertisement for the restaurant or it has not been involved in social media yet, aggregator is a solution. It is great for those, who have in-house delivery service and do not want to worry about the tech side of the process. What is more, the expenses spent on drivers are distributed among many restaurants which is quite efficient.
New delivery apps are good for those who do not have any logistic support, are willing to enter the food industry market and gain better sales. This is a perfect match for small restaurants.
What about full-stack food players? This is the most challenging option. It can be a crucial point for startups as it requires a lot of funding for everything: employees, equipment etc. But you can deliver great customer experience if you provide your clients with all-in-one food delivery service. Your customers can get fresh and tasty food right at their doorstep without delays. Your in-house chefs and delivery men, in turn, will be able to organize their daily routines.