This media file manager app is basically mobile based. But it offers data synchronization between smartphones and Windows computers to import or export multimedia files. Also, it is capable of mounting iOS devices as flash(USB) drive. However, only the latest versions of iPhones and iPads are supported by Winx MediaTrans. 
Even Apple's iTunes application also has it's set of compatibility issues when it is with Windows PC. While iTunes works perfectly on MacOS, Windows devices are left with the applications which hardly meet the requirements.  

This is where the need for WinX MediaTrans steps in. The software is especially meant for Windows PC to transfer data from iOS devices to it or vice versa. Doesn't matter what file you want to export or import, it efficiently works for everything from iBooks, photos to HEVC videos transfer and more. 
Winx MediaTrans offers wider flexibility in comparison to iTunes in terms of managing playlists or syncing music files, etc. For instance, you can easily add a new music file to your playlist by simply drag and drop option. 
Features And Functions

 
1. Photo Transfer

With WinX MediaTrans, you can transfer images of the following resolutions (BMP, HEIC, PNG, PG) from Apple device to Windows PC and save enough space. 
Moreover, you can export HEIC images from iPhone 7/8/X to JPG format for PC view. It hardly takes 8 seconds to transfer images of 1004 K size from iPhone to computer. The only drawback is that it does not support photo transfer from PC to iOS.  
2. Music Sync 

Music synchronization between Windows PC and iPhone iPad is allowed in this application. Furthermore, you can produce, add or remove your music playlist and can also add details to your playlist including song title, artist and album, etc.  
3. Import Or Export Video

Importing videos from computer to iOS devices and vice versa is permitted. It is capable of converting unsupported video files into iOS compatible formats, before syncing. Hardware acceleration is also enabled here. Lastly, videos exported from computer to iOS device will be auto adjusted to display full screen. 
Other Highlighting Features:
Converts iTunes' premium music, iBooks and movie videos accordingly to support device, compatible with MP3 and MP4 formats. 

You can encrypt your confidential photo and video files with personalized password for added security.

Produce you own music playlist and set your  favorite tune as an iPhone ringtone.

Mount your iPhone as the USB drive for storing any file format including PDF, DOC and Excel.  
Avail WinX MediaTrans Premium License for Free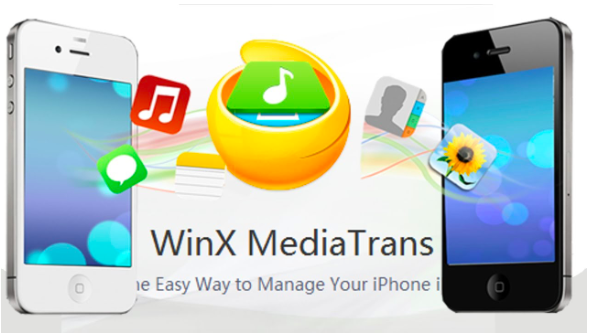 Though Winx MediaTrans is a premium file manager software, its free trial version is available for you to examine its potential. We ensure to acknowledge you with the terms and features of this app before you purchase it. The software comes with the benefit of a 30-day money refund guarantee for user reliance and convenience.
Apart from the above, they have arranged a small giveaway offer for our valued readers. That is, you get about 50% discount offering purchasing the lifetime version of Winx Media Trans. Click here to know more. 
Let's Conclude
So, in case you want to shift from iTunes to WinX MediaTrans for smoother media file transfer between Windows and iOS, avail our plan of 1 year. We provide a premium license for each computer at the cost of $39.95 only.  
With over 12 years of experience, Digiarty has globally developed itself to be a leading provider of home or personal-use video audio software for both MacOS and Windows. 
Winx MediaTrans provides easy to operate free DVD copy software, DVD ripper and burner, HD video converter, media player, online video downloader, iPhone media manager and more for movie addicts, video game players, etc.  
We will be glad to know your experience with Winx MediaTrans and other issues (if any) you have gone through. Also, don't forget to share any such situation where this app has really turned out to be useful to you. Or, how, if at all, you managed to export iPhone multimedia data to your computer without Winx. Write to us about all these and any other related issues that you might like to share by commenting below.