Remember the time when DVDs were launched? These smaller discs literally revolutionized how you watch movies and other entertainment options. Packed with rich quality and consistency, DVDs were very versatile in every sense.
Even today, in the so-called digital world, people purchase DVDs and Blu-Ray discs for watching the highest-quality picture.The only problem is that you don't have many awesome DVD players available in the market. It ultimately means that you will have to create a digital backup of the discs you have.
And, that is where, friends, an amazing DVD ripper like WinX DVD Ripper Platinum comes in.
WinX DVD Ripper Platinum — an Introduction
WinX DVD Ripper Platinum is one of the awesome products from WinX DVD you can buy today. It is designed to help you digitize your entire DVD collection in a matter of minutes. Regardless of the type of DVD you've — be it Homemade, Commercial, Protected or even Damaged —, WinX DVD Ripper Platinum allows you to easily convert the disc into a viable format like MP4 or MKV. For someone who wants to get the maximum-quality digitized content from their DVD collection, this tool is the ultimate companion.

Prominent Features Inside
WinX DVD Ripper Platinum is a premium tool, but there is a minimal variant as well. For now, however, we will be checking out the top features in this power-packed version.
Ultimate Compatibility: WinX DVD Ripper Platinum works with almost every DVD disc you have. The tool even works with 99-title DVDs from Disney. As we said earlier, you don't need any other software to digitize the entire DVD collection you have.

WinX DVD Ripper Platinum can also save the DVD content into a variety of formats. Starting from the normal MP4 to formats that are device-specific, you can watch the content everywhere. WinX also has included an option to choose the device, which picks the right format.
WinX DVD Ripper Platinum comes with an in-built Video Editor. This works great when you want to make minor edits such as cropping, trimming and even merging multiple videos from DVDs.

Interested in getting this awesome DVD ripper? WinX is actually doing a giveaway that you will not want to miss. You can get all the awesome features of WinX DVD Ripper Platinum for free. You can get the license code from the official website of WinX DVD Ripper and activate it.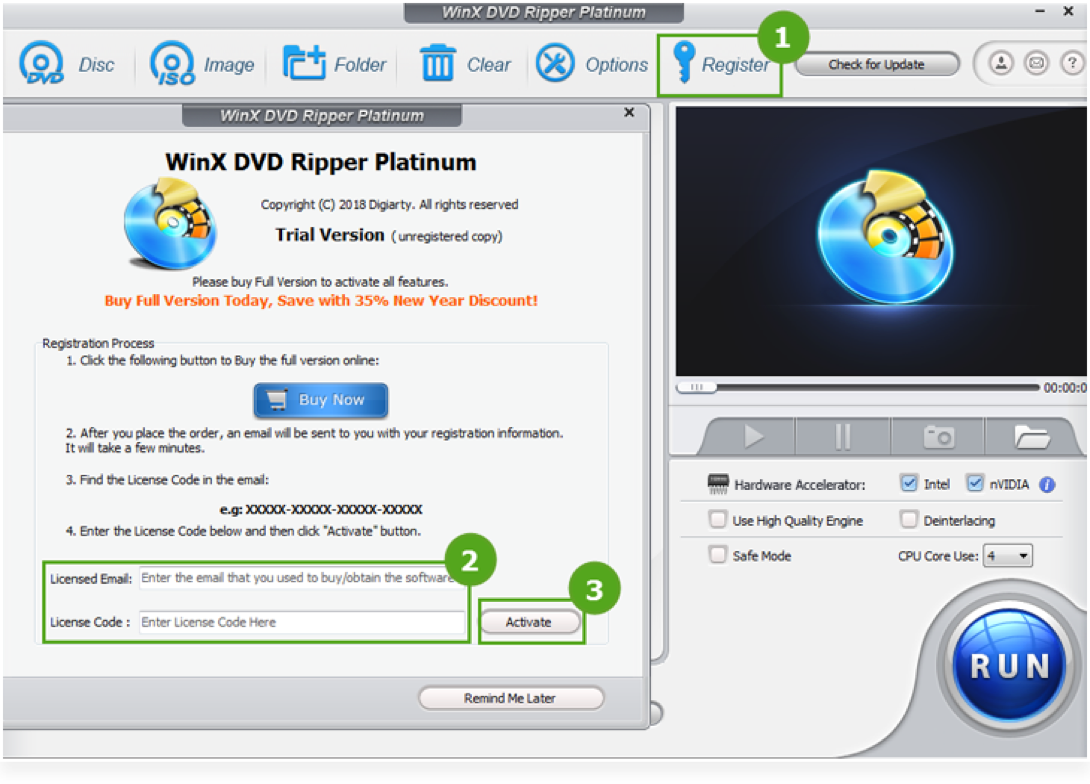 WinX DVD Ripper Platinum and Level-3 Hardware Acceleration
WinX DVD Ripper Platinum showcases one of the best performances we've seen in DVD rippers. If you were wondering about the reason, it's Level-3 Hardware Acceleration. Without putting all the load on your CPU, this feature will make the GPU do the job. Hardware acceleration in WinX DVD Ripper Platinum is powered by Intel QSV and NVIDIA NVENC/CUDA.

This feature not only brings one of the best conversion speeds but also decreases the load on CPU. It means that you can keep using other programs in the background even when WinX DVD Ripper Platinum is ripping a huge-size DVD/Blu-Ray. WinX DVD Ripper Platinum also makes sure that you get the most compressed file after conversion with full quality.
Most importantly, WinX DVD Ripper Platinum Level-3 Hardware Acceleration means that you don't need a maxed-out computer to perform DVD Ripping.
How to Convert DVD to MP4 using WinX DVD Ripper Platinum
WinX DVD Ripper Platinum lets you copy, convert and back up the DVD. However, the most used method is to rip DVD to MP4 file. This file can then be used for seamless playback on a number of devices. Shall we have a look at how easy that process is?
First of all, you have to download and install WinX DVD Ripper Platinum on your computer. Launch the tool and make sure that you have inserted the DVD you want to rip.

On the interface, click on the DVD icon and select the drive. Now, on the other side, you can see the list of compatible formats. Pick MP4 from the list of options. You may also decide the destination folder.

Click on the Run button to start the DVD ripping process. In a few minutes, WinX DVD Ripper Platinum would save the final video in the selected directory.
The Bottom Line
So, you have seen how well WinX DVD Ripper Platinum performs when it comes to ripping, converting and backing up DVD discs. We repeat, it's the best companion you need for digitizing the entire collection of your DVDs into convenient formats like MP4 or MKV. Also, make sure that you don't miss the giveaway WinX has been conducting. It's the best way to get DVD Ripper for free.