You have always wanted to save your content like games, workout videos, movies, family wedding, music, official data and images for ever in a DVD. But the old, worn out and scaly DVDs have always disappointed you and didn't come as the best approach, all because of the poor lifespan. Well, for that matter you need an excellent backup tool to re-organize your preserved memories and set up a better backup system with no quality degradation.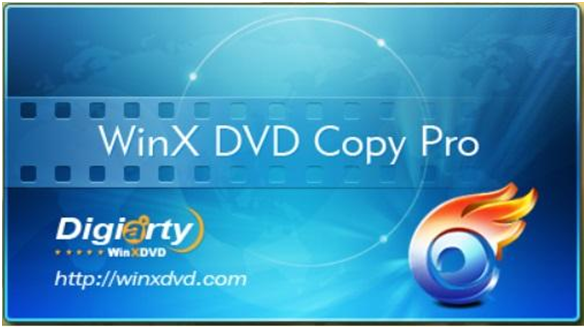 We draw your attention to one of the most innovative, reliable and revolutionary tool WinX DVD Copy Pro that helps you have a backup of your data on your PC with a lot of ease. The tool is like a special attention to the DVDs that has got damaged over the years and the data or the lost data of which can be recovered or restored to an undamaged DVD. With a special DVD clone feature, you can have the replica of your DVD to an ISO image or copy it to a video TS folder on your system. Overall, the software is one of the best uncomplicated DVD copy software for Windows 7 which even a beginner can operate. Let's have a look at the software's key points that makes it a champion in the DVD backup department.
Features of WinX DVD Copy Pro
DRM for protecting sensitive data.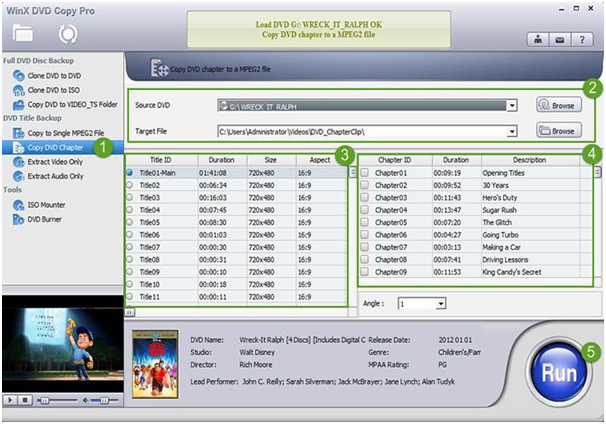 Sector-wise backup Functionality – There is an Advanced Bad Sector Recover Engine that handles the back up by creating sectors. Moreover, it also fixes bad sectors.
Perfect cloning with 1:1 backup feature- The tool effectively produces DVD copy in 1:1 ratio (means the exact replica of the original one, either to an ISO image or to VIDEO_TS folder).

You can also use the tool to edit audio and video files.
Copy DVD chapter, extract video/audio from DVD
The tool can duplicate DVD to MPEG-2 file without any content and quality loss which can later be played back on DVD playback on PS3, XBOX, HTPC and TVs and can also be further edited.
Copy region codes, CSS, RCE, UOPs, Sony ARccOS, APS protected DVDs
Benefits of using WinX DVD Copy Pro
No quality degradation- Fixes pixilation and no sectors broken
Higher quality and fast speed at low CPU usage/cost- WinX DVD Copy Pro is different and not that heavy on its resources, thereby performing seamlessly even on a system with low-end configuration.
It can handle a dirty, worn out or slightly cracked DVD as well.
Extremely easy to use interface
An all-round DVD copying software with 9 DVD Backup modes
Deals tough loss situations- scratched DVDs, corrupted sectors, Disney's Fake, Sony ARCOS bad sector, etc.
Protection and encryption features are better than the usual standards
Other metadata like author details, cover art, subtitle remains intact
Supports the more stubborn 99 title DVDs
How to use WinX DVD Copy Software to backup an old DVD to another DVD or your PC?
Here is the step by step guide:
Step 1: Launch WinX DVD Copy Pro
Step 2: Enter your DVD disc and select the source on tool interface.
Step 3: Select the format for your output like ISO, VIDEO_TS or MPEG2.
Step 4- Click Save As.
Step 5: Click on Run for the burning process.
Final Outcome:
You may customize the copying and burning process as per your need. If you are looking to copy the DVD to PC, you need to opt for 'Clone DVD to ISO' option. And if it is for copying the DVD to another DVD copy, the steps involved are similar except that you have to choose the 'Clone DVD to DVD' option.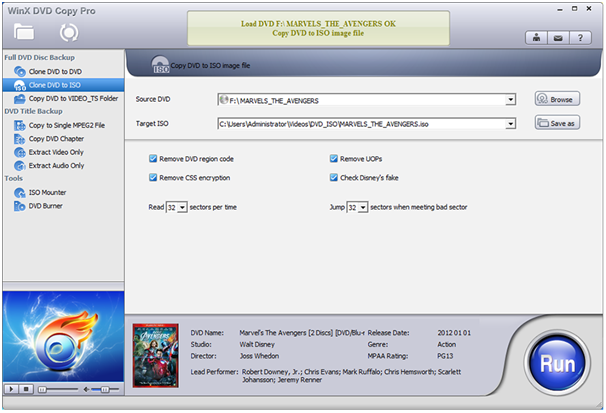 Conclusion
WinX DVD Copy Pro tool offers you several functionalities packed into one and is like a one-stop solution to for a long-term backup plan of your DVD content. With WinX DVD Copy Pro you hardly need to care about the lifespan of your DVDs and backups. Overall, WinX DVD Copy Pro is a powerful, feature-rich and user-friendly tool that benefits your backup plan in every sense.