Ahh, there's nothing like seeing the world. Whether you're on vacation or a business trip, the experience of taking in new locales can be reinvigorating and rewarding for a lifetime to come.
However, there can be more obstacles than booking tickets and renting out a suitable Airbnb. One familiar headache that other travelers have often experienced: How do you make calls in the state or country you're visiting other than how you're typically used to? Travelers often have to use some creative methods to get around the rules and restrictions that their carriers stick to in the fine print.
Often, this problem involves purchasing new phones and phone numbers, a plethora of SIM cards for each country that you visit to make local calls (and avoid unwanted long-distance surcharges). It certainly won't make sense to handle your missed calls/ voicemails when you arrive back in your home country. While some savvy travelers may use services like Skype, this can become an issue when there isn't regular internet access, as well as when you're relying on the less-than-stellar quality and dropouts caused by shaky WiFi. Handling all of these problems can really put a damper on a trip or have you miss out on business opportunities, simply because you can't make a phone call. However, there is an option that you can use to circumvent these problems: call forwarding.
In this article, we'll take a look at what call forwarding is, how you can use it to streamline your traveling experience, and which options you have when you decide to forward your calls.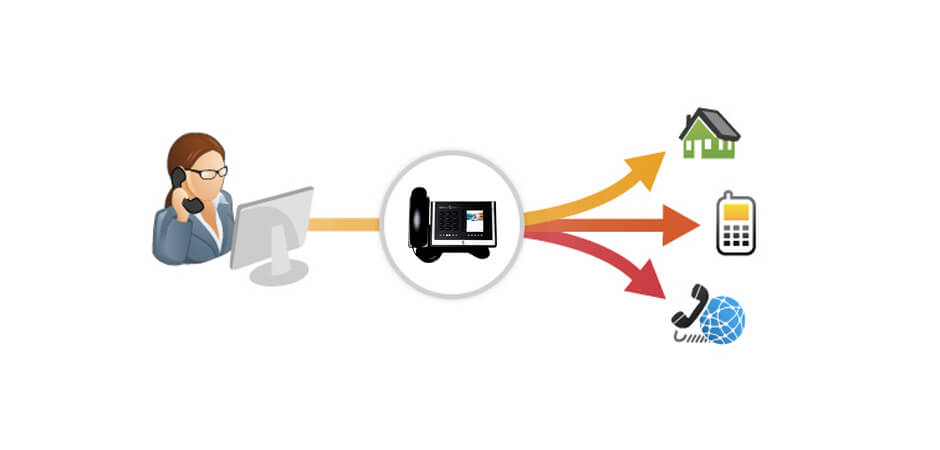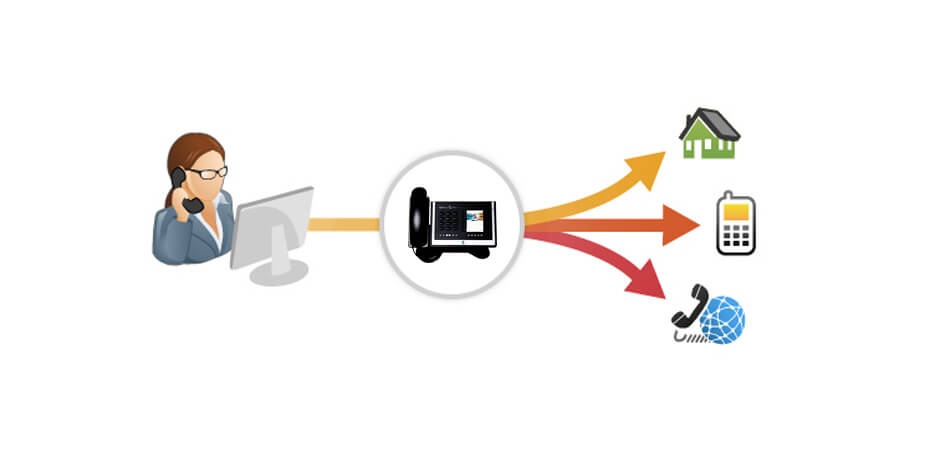 What is Call Forwarding?
Essentially, call forwarding allows you to route your mobile calls to another phone number, whether it's your office phone, home phone, or another mobile device. When someone dials your forwarded number, that call is forwarded to another line automatically without your mobile phone ringing first. Most service providers allow users to set up a call forwarding service, which then routes calls for a specific amount of time and data usage.
How to Use Call Forwarding when Traveling?
Depending on how and where you're traveling, call forwarding can be a lifesaver. For instance, you may want to forward calls to an alternate phone number while on vacation, sparing unwanted interruptions when you're busy sightseeing. Similarly, call forwarding can be used to have calls forwarded to another line if you're busy handling another phone call or if you don't want to answer.

Ways to Set Up Call Forwarding
Each carrier handles call forwarding differently. Depending on which carrier you use, the option of using call forwarding may or may not be available to you. Major carriers like Verizon and AT&T offer call forwarding — however, there are a few snags. Verizon users can't forward international calls or if you're outside the Verizon coverage area. This goes for AT&T as well. If you're out of the country, you may have to choose an alternative option (see below). Additionally, there are a number of fees that may have to be paid and charges that may pop out of seemingly nowhere.
So, for international travelers, you may have to purchase a second phone to use for local calls, or use dual-SIM card phones and switch between accounts, which can be a hassle.
[For more info on setting up call forwarding for a Verizon account, click
here
. AT&T users can visit
this page
for more info on their call-forwarding policy.]
An Alternative? Virtual Phone Numbers
As an alternative, you can use call forwarding service providers, like the aptly-titled Global Call Forwarding. These companies allow you to purchase a subscription to new numbers (known as "virtual phone numbers"), which can be located anywhere around the world. Calls that are made to these numbers are then forwarded to your phone (or your business' call center, for instance). And vice versa, you can then make outbound calls.

Examples of Virtual Phone Numbers While Traveling
Let's take a look at a few common examples of virtual phone numbers and their call forwarding capabilities in action:
As an example, suppose you were visiting Hong Kong and wanted to see whether you should start a business there (btw, it's simpler and cheaper than you think). As you scout potential markets and rub elbows with valuable contacts, you start to get the sinking feeling that you may have to plunk down cash or wait for approval by the Hong Kong government to give you the go-ahead. Instead, call forwarding from virtual phone numbers can be used to establish a "presence" in Hong Kong without the nasty overheads and bureaucratic red tape that may be in your way (or while you're waiting to finalize the process).
When those in Hong Kong dial your virtual phone number — which has the same country code as Hong Kong — those calls are routed to your home country's phone number. When you want to make outbound calls from the virtual phone number, a Hong Kong-based country code will be displayed on the recipient's phone, making them more likely to pick up than if the call originated elsewhere. This can be a lifesaver for those that are bootstrapping their startup or testing the waters of new international markets.

Or, suppose that you plan to visit Europe, the United Kingdom, and Southeast Asia for your honeymoon. Traditionally, you'd have to purchase a number of phones to switch between SIM cards and localities. With a virtual phone number service that forwards calls, you can purchase a virtual phone number subscription in each location to make and receive phone calls as you travel. This can be a lifesaver for your wallet, as you can avoid price-gouging by blending in like a local — or grant you access to locals who only can dial local numbers. Whether it's feminized weed seeds , auto-flowering cannabis seeds or medicinal marijuana seeds.
Additionally, you may have met another couple on your honeymoon travels that you may have wanted to hike with when your plans coincide a few weeks later. However, you only gave them a single phone number for them to call you. This might have you attempt to reload your SIM card with minutes or hoping that they might find you serendipitously. With a virtual phone number, those calls from the number you gave them can be forwarded to your new numbers, making that honeymoon much sweeter.

BIO: Tom Senkus is a freelance writer with over 15 years of experience. Formerly a globe-trotting musician who's been to 16 countries, he can presently be found enjoying the familiar comforts of Portland, Oregon. When he's not crafting articles on travel, he spends his time strumming his banjo along the banks of the Columbia River.