Remote Desktop Software is referred to as the feature or software that allows permission to the local system desktop for running remotely in any of their systems which it is present in another system. "Remote" is the word used for a local connection.
In simpler words, a Remote Desktop Software will help in accessing somebody else's computer present in the local system for business purpose issue such as file transfer, remote control, desktop sharing, and so on.
Organisations use these tools a lot for helping computers in case of troubleshooting issues that clients might case. It can significantly save time and reduce the complexity to provide better customer satisfaction.

Benefits of Remote Desktop Software
There are many benefits Remote Desktop Software has to offer
It will help in making the work virtual for enhancing an employee's productivity level.
It can assist in keeping information and data secure because the whole team will be taking care of a security breach.
The company will be saving a lot of money because there will be no need for investing in new employees or servers.
Getting easy access to information and data all over the world in a small amount of time will increase productivity.
Managing accessibility to the team will be easier.
The market is filled with so many options in Remote Desktop Software. Depending on the kind of organisation and work, you can choose the one that suits best.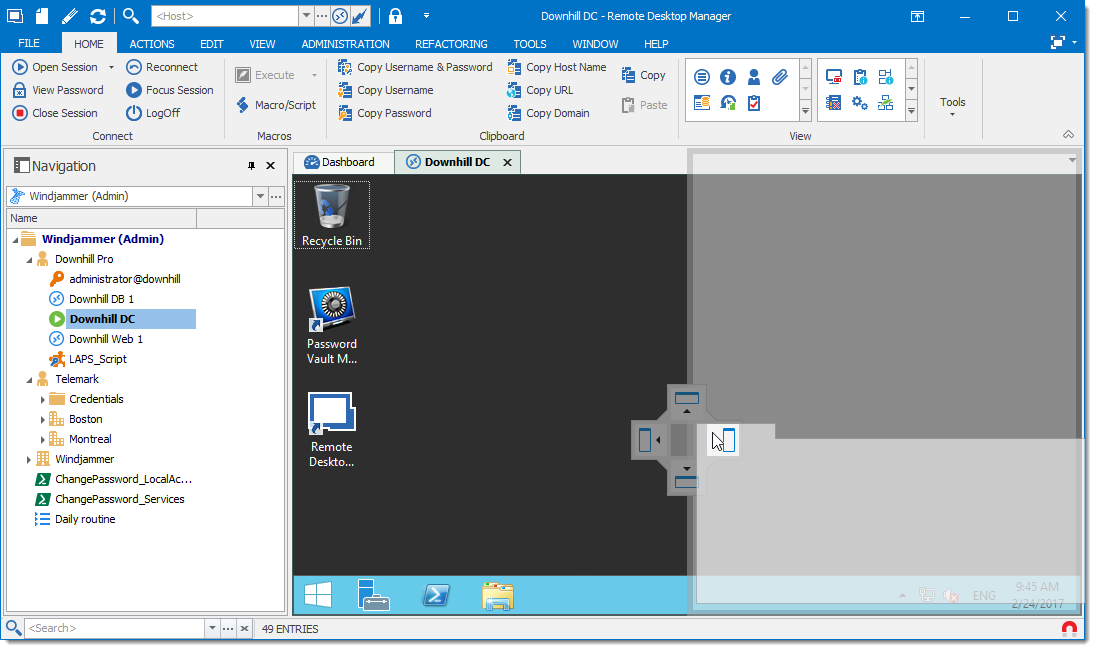 1) Remote Desktop Manager
It is one of the most popular tools used by organisations. The software can keep track of productivity as well as maintain the security of the company by reducing the risk factors. Multiple integrated technologies such as VPS and protocols support this software.
Advantages
The software is known to be user-friendly. The configuration setup is also quite quick and straightforward.
The feature of centralising the connection details using a single interface is quite fascinating.
There are multiple integrations available.
Features such as schedules and follow up are present.
GPS tracking is also included.
Disadvantages
Only a few features are available in the free version.
Interface design needs to be better.
Sometimes systems can become very slow because of the different processes.
Saving the file on the cloud for moving it to a different location is necessary.

2) Team Viewer Desktop Software
Team Viewer is another software that many companies used for Remote Desktop Management. It uses cloud-based technologies for enabling online remote support for collaborating globally. It works like a magnet in promoting and amplifying the ideas of the people when it comes to overcoming challenges and solving issues.
Team Viewer is one among the best Remote Desktop Manager where you will be able to share meeting applications that can run on mobile platforms and different systems. It also has a trial version account that is meant for personal use.
Advantages
It is easy and straightforward concerning the installation process.
It can help in making collaborations quick and direct in different locations to reduce cost.
It is quite good for the management of cloud pc with the help of the Team Viewer app.
The free version comes with features that are good enough for any non-commercial use.
Disadvantages
It doesn't allow an audio conference with mobile phones and VOIP on one bridge.
After upgrading the software, the versions may not be compatible with one another.
Tow remote systems cannot be viewed at the same time.
It cannot share huge files

3) VNC Connect Desktop Software
VNC Connect is known to be another desktop software that is used by many multinational firms. It helps in providing access to a system whenever and wherever necessary. VNC Connect offers a reliable and secure tool for screen sharing. It helps in connecting devices and users for collaboration, monitoring, training, administration, support, control, and so on. It can run on several platforms.
Advantages
Password protection features are available in this software that allows blocking of unauthorised users who want to access the remote desktop.
It offers a powerful mechanism for uploading and transferring files.
It provides good remote printing.
It can connect quickly, along with easy screen sharing and fast response.
Disadvantages
The mobile app can be clunky and intuitive.
Multiple screen sharing is not permitted using the same window.
Shortcuts need to be improved.

4) RemotePC Desktop Software
RemotePC is quite well-known for helping you stay connected with your work or house system without actually visiting the place. It can manage files efficiently along with printing and transferring data remotely.
Advantages
It offers excellent compatibility and integration.
The cost is lower compared to other tools.
Disadvantages
Connectivity can sometimes get discontinued.
The user interface can be enhanced.

5) LogMeIn Desktop Software
LogMeIn is known to provide support and remote connectivity to all kinds of consumers and industries. It is used for remotely working and exchanging data more efficiently.
Advantages
It offers strong remote accessibility.
The security features are excellent along with an available free trial version.
Disadvantages
The price is high compared to the features offered.
The multi-screen features must be improved.
Conclusion
We know that every industry has its requirements. The needs are naturally going to be different for small-scale, medium-scale, and large-scale enterprises. Depending on the type of firm you have, you must select software that is best for you.