Women, fast cars, casinos, martinis and technology… is there anything that James Bond is not synonymous with? It's been over 50 years that 007 has wowed us with his incredible feats of bravery to overcome several villains and woo the ladies. Although everyone has their favourite movie, there are so many memorable scenes and iconic moments to have come from the franchise. Here we will countdown of our favourite moments.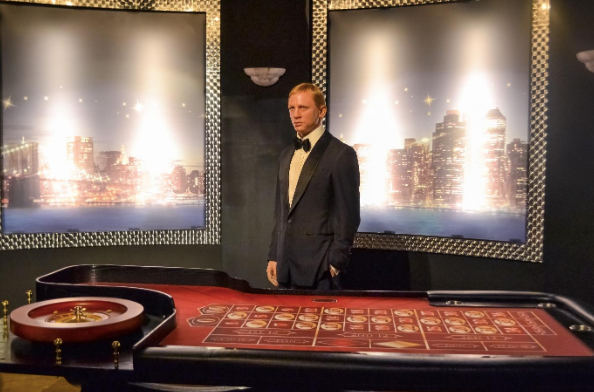 "No Mr Bond, I expect you to die"
Beginning our countdown is the laser beam scene in Goldfinger, which sees the eponymous villain strap Bond to a gold table, with his legs splayed, under a laser beam. The laser gradually cuts the table in half, making its way to his body. Known for his witty remarks, Bond comes up against someone who could out-do him in that department and the conversation between him and Auric Goldfinger went like this: "Do you expect me to talk?" "No, Mr Bond. I expect you to die." Of course, Bond uses his silver tongue to get Goldfinger to turn the laser off and free himself from the table.
Last poker hand in Casino Royale
Okay so it may not be the most realistic enactment you'll ever see but Bond's poker game against villain Le Chiffre in Casino Royale has recently been voted the 'best ever movie poker scene'. It isn't just the final hand scene that is memorable and iconic – we previously see 007 poisoned mid-game by a martini that Le Chiffre has spiked with digitalis. He leaves the game to save himself with an antidote and defibrillator, with Vesper eventually arriving to rescue him. But all's well that ends well and when it comes down to the final two: Bond and Le Chiffre, our hero wins with a straight flush, earning a cool $115 million.
Honey Ryder emerges from the sea
It was in the very first film, Dr No that we caught a glimpse of the first Bond girl and Honey Ryder (played by Ursula Andress). Her entrance is truly iconic, emerging from the sea in a white bikini (a revelation for the time – 1962), holding two seashells and singing 'Under the Mango Tree'. When Bond joins in with her, she immediately pulls out a dagger but soon warms to his charm.
The scene has been replicated by Mariah Carey in her music video for 'Honey' and Halle Berry and Daniel Craig both paid homage to it in other Bond movies (Die Another Day and Casino Royale, respectively).

That casino scene
Yep, we're sticking with Dr No and the film's opening scene, which sees Bond (played by Sean Connery) sat at the Baccarat table. He's at the fictional Le Cercle Casino in London, playing Chemin-de-fer – and it's not long before he spots a lady out of the corner of his eye. Sylvia Trench has been watching him closely and it isn't long before Bond opens up his cigarette case, looks into her eyes and delivers that famous line: "The name's Bond… James Bond". 
In real life, Connery's casino game of choice is Roulette and he once got incredibly lucky on number 17. You can read more about that feat here, but if you think luck is on your side, visit: https://games.paddypower.com/c/roulette and give the wheel a spin.