USB flash drives often get corrupted and result in loss of important data. This may happen due to a number of different reasons like physical damage to the hardware, infestations of computer virus, etc. So when it comes to flash drive data recovery, we have a number of different options to choose from. The most effective option in this regard is to make use of a flash drive recovery software.
The Best Flash Drive Data Recovery in 2017
If you are looking for the best possible option in this regard, it is highly recommended to go for Wonder Share Data Recovery software. It is the best data recovery software that helps you recover data from a flash drive with any kind of corruption. Wondershare Data Recovery software offers a variety of different effective data recovery features. A few of the most prominent ones in this regard are listed below.
Allows you to recover more than 550 different kinds of file formats
Enables complete, safe and quick data recovery
Offers data recovery for files that got lost under any kind of situation
Offers recovery of data from camcoders, digital cameras, flash drives, memory cards, hard drives, recycle bin, etc.
Generates previews of recoverable data content before you actually have to save the files on your computer
Supports different variants of MAC as well as Windows
How to Recover Data from Flash Drive
Free download Wondershare Flash Drive Data Recovery on your computer, and follow the next simple step guide on how to recover your lost data from a USB flash drive is given below.
Note: plug the USB flash drive into the computer in order to initiate the process of recovery of your lost data.
Step 1: Choose the file types you want to recover.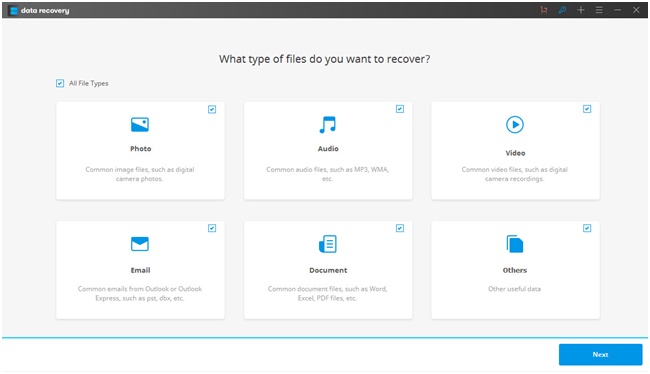 Step 2: Select the location "USB flash drive" to start scanning lost files.

Step 3: Scan the deleted files

Step 4: Preview the files

Losing important data on your USB flash drive to corruption can always be a bit frustrating and annoying. But luckily we can make use of the wonder share data recovery software to get our hands on the lost files. It is the best data recovery software available in the market to help you recover data from flash drives as it offers certain features that aren't offered by any competitive software in the market.