Sometimes,standard tournament matches can get hectic. By that, I mean that cameras are always switching between players in split seconds and you don't get to focus too much on one player. This is why you may have problems understanding why someone takes a particular position while the other members are watching mid or short.
Because of this, I recommend watching 1v1 or 2v2 CS GO tournaments. This way, you will focus on one or two players instead of five. We will talk about the advantages of watching this sort of tournament and about the HTC 2v2 Invitational.
What Are the Advantages of Watching 1v1 or 2v2?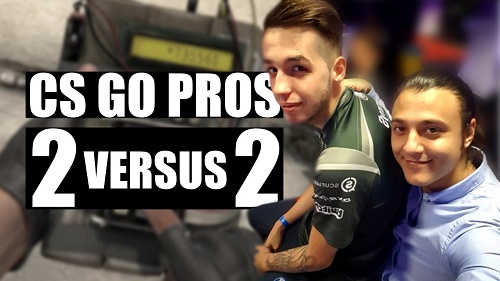 Firstly, if you are a beginner, it's better to watch matches that are simplified. In a 5v5 situation, every player's input can affect the outcome of a round or even a match. With 1v1, you can choose what player to watch up close, and you can get a replay in case you missed something.
With 1v1, you can also analyze how some players focus their shots, how they avoid getting noticed or how they use their accessories. Remember, they are on their own so that no member can communicate an enemy's position. They will have to rely on their skill and wits.
The HTC 2v2 Invitational
Last year, this tournament was held using the 1v1 system. This year, this tournamentwas organized using a 2v2 format to spice things up. Eight teams have participated in this tournament:
Team Secret: Julia "juliano" Kiran and Zainab "zAAz" Turkie
Team Soldiers: Can "XANTARES" Dortkardes and Bugra "Calyx" Arkin
G2 eSports: Richard "shox" Papillon and Kenny "kennyS" Schrub
Team EnvyUs: Adil "ScreaM" Benrlitom and Vincent "Happy" Cervoni Schopenhauer
FaZe Clan: Havard "rain" Nygaard and Nikola "NiKo" Kovac
North: Rene "cajunb" Borg and Philip "aizy" Aistrup
NatusVincere: Denis "seized" Kostin and Oleksandr "s1mple" Kostyliev
Heroic: Nikolaj "nikp" Kristensen and Jakob "JUGi" Hansen
The tournament started on the 13th of May and ended on the 14th. It took part in the PGL scene in Bucharest, Romania. The prize pool was of 50,000 dollars. Last year, in the 1v1 HTC Invitational, Richard "shox" Papillon won the finals with a 2-1 score versus Michal "MICHU" Muller. This year, he won the finals together with Kenny "kennyS" Schrub.

Why Aren't there More Tournaments Like These?
A good reason for this is because Counter-Strike: Global Offensive focuses more on team play, team communication, with each and every member taking a different role in the game. While one versus one or two versus two matches may get popular, the five versus five will remain a standard.
Besides, with big maps as Nuke, Dust 2, Inferno and others, it is hard for one player to intercept the other. Smaller maps may be required, and the gameplay and tactics will be diminished just to fit this new tournament format.
If you want to bet your bitcoins or skins on 2v2 tournaments, look at this skin betting site. You can save money by doing so.