Let us tell a story and see how many of you can relate to it.
You're back from an amazing trip and your DSLR Camera is full with some awesome photographs. But, when you try to copy the photos from the SD card, you get a message that the SD Card is corrupted. Heartbreaking, isn't it? On a normal day, you would simply give up on those photos — but, you don't have to. What you need instead is an effective data recovery software like Stellar Phoenix Mac Data Recovery.

You don't have to be a tech enthusiast or geek to use data recovery programs from Stellar. And, the newest version of Stellar Phoenix Mac Data Recovery makes things all the way awesome. Today, we have come up with a brief review of Stellar Phoenix Mac Data Recovery 8 Professional so that you you'd know whether it's the best choice for you. Shall we go ahead with an introduction to the program and developer?
What You Should Know About Stellar Phoenix Mac Data Recovery 8?

Let's start with the basic: Stellar Phoenix Mac Data Recovery 8 Professional is a popular Mac-based software to recover lost/deleted/corrupted from a variety of devices. It doesn't matter if you lost the data from your own Mac, a SD Card or a USB drive — you can recover them all using this single piece of program. It makes use of high-quality and innovative data recovery algorithms to make sure you can recover everything that is possible.

Apart from typical data recovery, Stellar Phoenix Mac Data Recovery 8 supports a few other features as well. For instance, you can find lost/corrupted partitions in a drive, recover Time Machine backups for your Mac and even create Hard Drive Images for compact access. We should add to these the widened compatibility of Stellar Phoenix Mac Data Recovery 8 when it comes to file systems and device manufacturers. Used and recommended by thousands, this updated software from Stellar rocks the stage.
A Note on Availability and Pricing
Of course, Stellar Phoenix Mac Data Recovery 8 is a Mac-only software and is compatible with El Capitan and later versions, up to macOS High Sierra. So, if you have a MacBook, MacBook Pro, MacBook Air, iMac or Mac Pro that runs El Capitan or later versions, you're good to go. Despite offering a Preview-based free trial, you have to pay $99 for Stellar Phoenix Mac Data Recovery 8 Professional variant. The free trial lets you scan & preview recoverable files but doesn't let you recover them!
Usability and Performance
Once you have downloaded and installed Stellar Phoenix Mac Data Recovery 8, which takes a few seconds, Data Recovery is an ultra-easy thing. From the first page itself, you can decide the type of files you'd like to recover. And, once you have selected the device in the next screen, Stellar Phoenix Mac Data Recovery 8 will start scanning the drive for recoverable files. If the drive seems so corrupted, the program will automatically shift to Deep Scan — and give you better results.

We'd compared Stellar Phoenix Mac Data Recovery 8 with some other Mac data recovery software we had tried earlier. This new version not only beats them in terms of recovery speed but also finds more number of files in the Deep Scan mode. Both these additions make the version 8 a worthy upgrade if you have been using the previous version. Even the advanced versions, such as Customized Scanning and file-based filtering, seem quite user-friendly.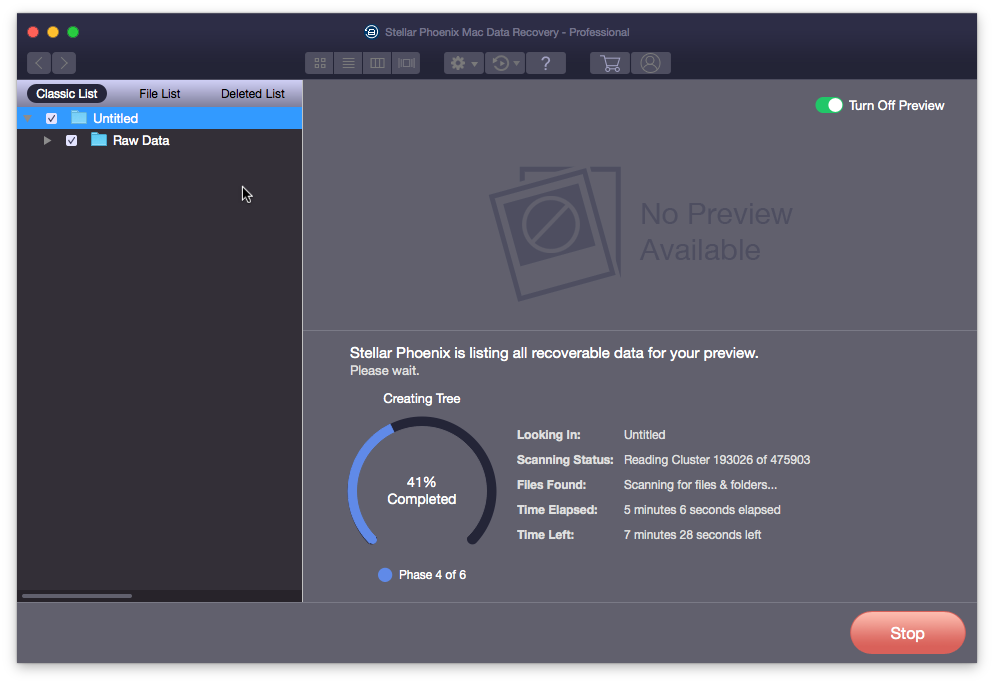 Compatibility
Stellar Phoenix Mac Data Recovery 8literally supports hundreds of file formats, from each category. We're still wondering how Stellar managed to include such a huge file-system support. We, in fact, tried to make sure that the program recovers files from these formats — and it did, quite seamlessly. So, that's a five-star rating in the compatibility department. And you know what? Stellar Phoenix Mac Data Recovery 8 can easily recover files from Encrypted Volumes too.

What Do We Think — Should You Buy It?
Considering that Stellar Phoenix Mac Data Recovery 8 costs just $99 and that it can recover almost everything from the digital world, we think that's freaking awesome! You're getting a brand-new, extra-powerful, well-designed Data Recovery software for your Mac. And, the UI requires no prior knowledge. Even though you might know only Microsoft Word, there is 100% chance that you will get your lost photos and documents back.