It's high time we admit the fact that Smartphones have become a necessity, from being an addition. It's the same reason why you cannot refuse when your kids ask for a brand-new iPhone or Pixel XL. Of course, as an answerable parent, a smartphone gives you certain perks too. For instance, you can keep in touch with them, securely and instantly. But, when kids of adolescent ages are exposed to the big tech world and the Internet, they should be aware about the possible threats too.
While it's possible to do that, it would be more practical to have a parental control solution like Spyzie.
This article is a brief and quick review of Spyzie, covering the aspects you should know. At the end, you would know whether Spyzie is the perfect solution for your parental monitoring needs. While there are some illegal and not-directly-legal ways to use Spyzie, we recommend using Spyzie — or any other monitoring solution — on devices that you have legal access to. So, let's be clear about the ethical part and check out what this wonderful parental monitoring program that's incredibly compatible.
What is Spyzie?
Spyzie is an effective parental monitoring solution that is available for Android and iOS. It means that parents can use Spyzie to monitor their kids' Android and iOS smartphones. With more than 1 million satisfied users and several media recommendations, Spyzie is the go-to choice when you need effective tracking. Calling it a simple monitoring service would be an understatement. When compared to competitors, Spyzie offers an amazing set of parental control features as well, which we will cover later.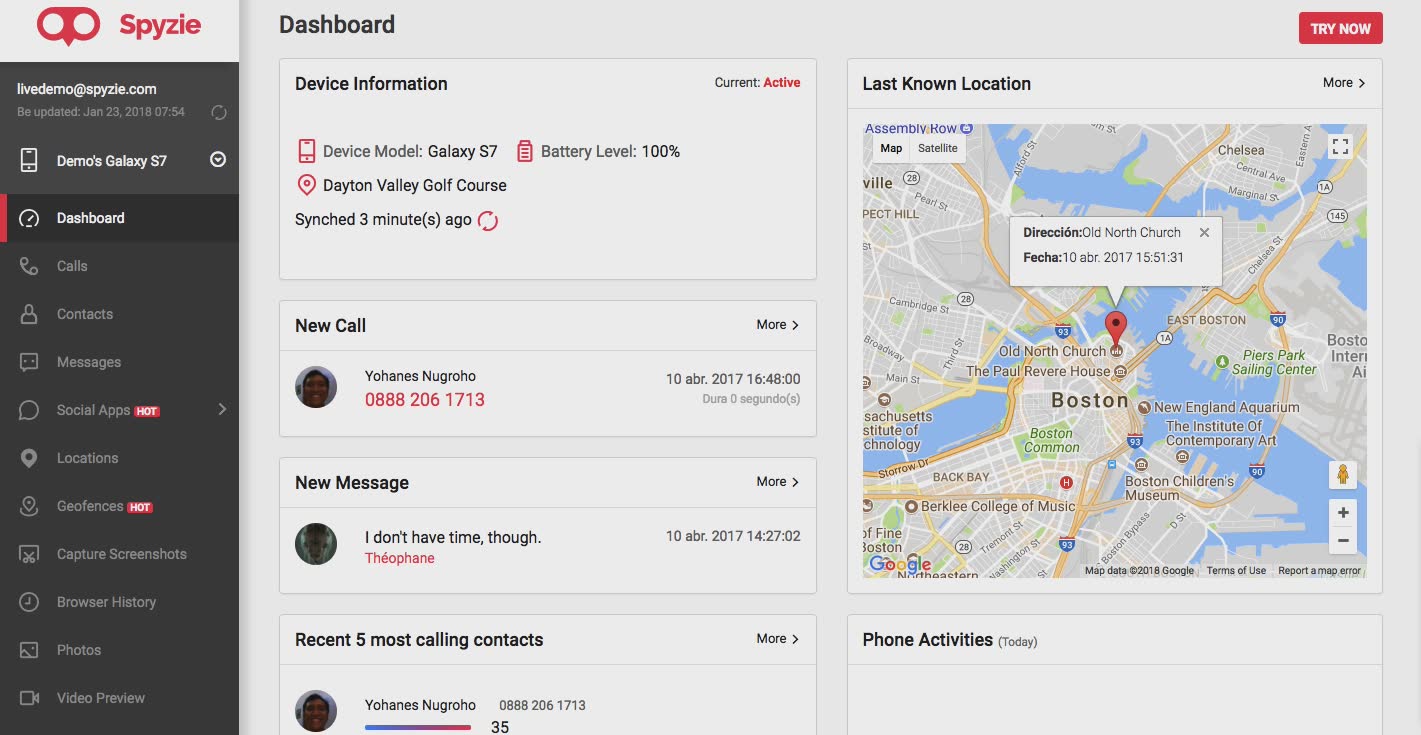 Availability and Pricing
There are two sides of availability for Spyzie. You can use the service to track both Android and iOS devices. It is compatible with Android Oreo and iOS 11, so that you can track an iPhone X and Pixel 2 XL at the same time. It needs to be noted that you need physical access to the device for installing the tracking element. As far as the pricing is concerned, a monthly subscription system is used.

Depending on the features you need, you can choose between the Premium and Ultimate Editions. Premium one offers restricted features, while Ultimate Edition gives you everything Spyzie is capable of. For instance, you cannot have Geo-Fencing and Keyword Alerts in the Premium version. The plans are available for $29.99 and $39.99 respectively.
Features that Matter
Spyzie is perhaps the most feature-rich parental control solution we've seen so far. All the tracking features are accessible through web or dedicated Spyzie management apps. All you need is to sign in using the login credentials. Let's have a look at the top features of Spyzie parental monitoring.
App Blocker and Schedule Restrictions are the best features for controlling smartphone usage. If you do not want to restrict entire usage, you can block certain apps as well. This will prevent your kids from potential & possible threats.

Using Spyzie, you can track the real-time location of your kids. You don't have to annoy them with calls when you want to know the location. There is also something called Geo-Fencing that alerts you if your kids go out of a particular area.

Calls, Messages and Keystrokes
Spyzie becomes a complete tracking solution due to these features. You can access to call logs, messages, a detailed app activity tracking and keystroke tracking. One feature we loved is Keyword Alert. It notifies the parent if a particular keyword is being used in the device.

Want to know what your children has stored in the device? Spyzie has got you covered, offering a detailed viewing system. You can check out the Gallery, Contacts, Memos, Calendar Entries and more. You can also preview videos.
Instant Messaging Tracking
IMs like WhatsApp, Snapchat, Instagram have become a potential thing that pedophiles and child abusers are using. Using Spyzie, you can know with whom your kids are chatting to, and warn them if they are with the wrong connections. Pretty cool, isn't it?

Management and UI
As said earlier, you can manage Spyzie account and connected devices through mobile apps or web. We do prefer the web interface since it provides a complete overview, of all sections. Judging by the process to get things done, connect devices and keep tracking, we'd say that Spyzie is super user-friendly. Even if you have not used any parental control system before, Spyzie is a piece of cake.

The Bottom Line
Spyzie, as a parental control program, is simple, easy-to-use and feature-rich. The pricing is low and quite a lot reasonable when compared to the features. At the end of the day, you can smoothly track your children and their smartphone activities through a unified interface, which is great. It offers great compatibility also, for that matter.