Walking the streets filled with masked faces may feel like something out of a dystopian novel. The "new normal" is officially upon us, which means that we all have to make some adjustments to our everyday lives. It's a confusing time, and coming to grips with the latest advice can be difficult.
One of the most confusing pieces of advice has surrounded face masks. Should we wear them, or should we not? The Centers for Disease Control and Prevention guidelines have recently changed to suggest that we should all be wearing them. Dr. Oz weighs in on the issue and explains everything you should know about wearing masks.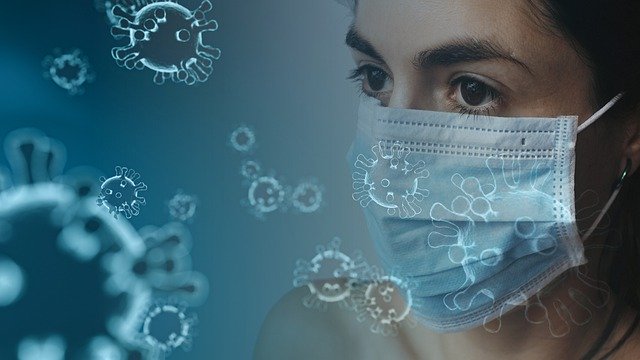 Importance Of Wearing a Face Mask
Getting used to wearing a face mask in public is all part of the measures being taken, but how necessary is it? Recent research published in Health Affairs looked at the general increase rate of coronavirus after mask mandates were put in place. The rate fell by 0.9 percent within five days of the mandate. What's more, the numbers decreased a further two percent in the weeks after that. The results suggest what we all suspect: that face masks can save lives. 
The CDC now advises that everyone wear a face mask to reduce the spread of COVID-19. On July 14, the organization released an official statement based on the latest scientific research asking Americans to wear cloth masks. As some people who contract COVID-19 may be asymptomatic, there's a strong chance that people have the virus without knowing. With that in mind, wearing a face mask when you're in a public space means that you can avoid passing on the virus.
"We are not defenseless against COVID-19," explained CDC Director Dr. Robert R. Redfield as part of the statement. "Cloth face coverings are one of the most powerful weapons we have to slow and stop the spread of the virus – particularly when used universally within a community setting. All Americans have a responsibility to protect themselves, their families, and their communities." The current guidance on face masks could not be clearer.
Note: While the general advice is that everyone should be wearing face masks, the CDC states that children under the age of two, anyone who has trouble breathing, or people who cannot remove masks without help should not wear masks.  
Homemade Face Masks and Effectiveness
Toward the start of the pandemic, the general advice was that a face mask was not necessary for everyday wear. People were warned against panic-buying masks for fear that they would deplete the supply needed by healthcare workers. However, in light of the new scientific findings and CDC advice, we should all be wearing face masks. While there's a variety of face masks on the market, you may choose to make your own.
To guide you along the way, Dr. Oz recently published an article detailing exactly how you can make your own face mask. Before you get started, it's important to note that the type of covering you use is important. Surgical masks and respirators need to be saved for healthcare professionals. Instead, when it comes to making a mask, the operative word is "cloth." Dr. Oz explains that soft, breathable materials such as linen and silk may also work well. However, these fabrics have not yet been tested in major scientific studies. 
To ensure that your homemade face covering is effective, the most widespread advice is to use a double layer of fabric. The CDC has released a complete tutorial of how to make cloth face coverings at home. The guide includes two separate tutorials; one requires some sewing, but you can make the other without a sewing machine. The first tutorial states that you will need two pieces of cotton fabric, and the second advises using an old t-shirt or bandana. 
Of course, the question of the masks' effectiveness still remains. Dr. Oz explains that wearing a homemade face covering does not automatically make you immune to the threat of COVID-19. The truth is that wearing a face mask decreases your chances of spreading the virus to those around you. Put simply, that means that if everyone wears a mask in public, we can all protect one another and slow down the virus. 
How to Wear a Face Mask Properly
Wearing a mask is essential to the public's health. That's a given. However, you also have to take things one step further and ensure that you're wearing your mask correctly. Dr. Oz directs readers toward the official advice from the CDC once again. Needless to say, you should always wash your hands before putting a mask on. The information also states that the mask should cover both your nose and mouth and be secured under your chin. 
Aside from that, the fit of the mask should be snug against your face, while ensuring that you can breathe easily. When you're out and about, the advice is that you should not touch your face covering, but if you do, you should wash or sanitize your hands. You should also not pull your face mask up or down so that it covers your neck or forehead. 
It doesn't end there. When you return home, ensure that you take extra care in removing your face mask. Either untie the strings or unhook the loops from behind each ear. Avoid touching the main body of the mask; instead, only handle the loops or strings. Fold the corners of the mask together inward. That way, you will capture any germs inside the mask and not touch them. If the face mask is reusable, you can now put it in the washing machine. When you have safely removed the face mask, you need to wash or sanitize your hands once more. Avoid touching your eyes, mouth, or nose before doing so.

Where to Wear a Mask 
We all know that face masks are important for slowing the spread of COVID-19. Despite this fact, some people may be confused about when they should be wearing them. To address this, Dr. Oz published an article outlining everything you need to know. In the article, he outlines the following places where you should wear a face mask:
. Exercising in Busy Areas 
When you're running in a rural area and no one else is around, you may be able to go without a mask, according to Dr. Oz. However, should you continually pass people when you're exercising, you need to wear a mask. This rule is particularly important, since people generally breathe more when they are exercising. If you're huffing and puffing as you move around, the chance of you spreading germs to those around you is high. 
. Inside Stores and Businesses 
Whenever you head to a grocery store, retail store, pharmacy, or any other indoor business, you should be wearing a face mask. You will be in close proximity to other members of the public. For that reason, protecting yourself and others is essential. 
. At Doctor or Dentist Offices
Similarly, when you go to the doctor or the dentist, you will need to wear a face mask. You may find that your clinic gives you additional advice on its specific guidelines. It is crucial that you cover your face in these premises. Keep in mind that there may be vulnerable people there, such as those with health conditions. Of course, the more you can do to protect the people around you, the better it is for the public's health. 
. Inside Hair Salons 
Now that hair salons have reopened in some areas, you may be ready to get your hair restyled. Before entering one of these salons, it's important that you make sure to cover your face. Once again, you may find that the business gives you extra advice on its specific guidelines. If you are in doubt, contact the hair salon staff ahead of time and ask them what they expect from their customers. 
. Public Transport
Getting from A to B during a pandemic is always going to be a challenge. If you are nervous about the prospect of using public transport, you should refer to the CDC guidelines on how you can protect yourself. The advice suggests that you should be wearing a mask when you're on public transport, especially in areas where social distancing is difficult. 
. When Visiting People 
If you are visiting a friend or family member and it's difficult to stay six-feet apart, you should wear a face mask. Doing so will help protect the people you care about from getting the virus. While it may be tempting to take the masks off around your social circle, keep in mind that anyone can be asymptomatic. 
How to Prevent Breakouts While Wearing One 
Worried about your skin? Can wearing a face mask cause breakouts? Toward the start of 2020, research published in the Journal of the American Academy of Dermatology that was conducted in Hubei, China, sought to answer that question. After assessing 542 frontline workers who wore PPE during long day shifts, the study found that 97 percent of participants reported skin damage such as dry skin, tightness, and peeling. All of the above could lead to further problems, such as acne, according to advice from dermatologists. 
While wearing a mask is an important step toward protecting ourselves from COVID-19, we also have to take care of our skin. Fortunately, Dr. Oz recently published an article detailing expert ways to prevent breakouts while wearing a mask. 
One of the most effective ways to protect yourself is to use a protective layer of product, such as petroleum jelly, on the area. Before you put on the mask, you should clean your face and then put a light covering of this product on your cheeks, chin, and the bridge of your nose. This small step will help stop the mask from irritating your skin. 
When you experience a breakout due to wearing a face mask, your immediate reaction may be to reach for the exfoliant or clay mask. However, Dr. Oz warns against this response, saying that you should use these products in moderation. Since, as we have already covered, the face mask may dry out your skin, products will only further the damage. Many skincare products of this nature tend to deplete the natural oils on your face. If your skin is already becoming dry, you will find that the problem worsens. 

During the day, you may feel the urge to touch your face. However, this is something that you should avoid at all costs. Dr. Oz explains that this habit could mean that you transfer oils, dirt, and bacteria from your hands directly to your face. Unsurprisingly, that combination can quickly result in an unwanted breakout. Additionally, after you wash your face, you should ensure that you hydrate your skin by using a moisturizer. 
Finally, if you're tempted to pop your pimples, you need to do it safely. That means getting a product such as salicylic acid, which naturally fights acne and clears clogged pores. You should also use this type of solution in moderation, according to Dr. Oz, since it may increase dryness in the long run. Take care, and be gentle with your skin.
Protect Yourself and Those Around You
Wearing a face mask isn't simply symbolic. It's a scientifically backed way of slowing down the spread of COVID-19. While we're dealing with a global pandemic, we all have a duty to do what we can to keep ourselves and those around us safe. As we all take our time to adjust to the "new normal," learning to live with the safety measures will take time. Wearing a face mask is a small sacrifice that we can all make to help save lives.