Choosing the correct software is a huge decision and can play a big role in the success of a business. The right software can be the difference in whether or not your business can increase revenue, boost customer satisfaction, and increase employee productivity. But determining the best software is only the first step; a strategic and thorough adoption plan is vital to the success of your software implementation.
Biggest Obstacles of Software Implementation
An insufficient software implementation plan can lead to a disappointed user base, overwhelmed managers, and costly delays in scheduling. These are a few of the most frequently made errors organizations make when adopting software. 
Underestimating the Time and Energy Involved:  Several businesses make the mistake of downplaying their role and the over-inflating role the vendor plays in the software implementation process. Of course, the vendor plays a major role, in regards to education, onboarding, and training – but a lot of the responsibility falls on the organization – after all, who knows it better? An efficient software implementation plan will be a collaborative effort with the vendor, rather than expecting the vendor to lead this initiative. 

Shutting Out Stakeholders from the Process: Despite your best intentions to implement a perfect software solution, if you neglect to include important stakeholders in the selection or adoption process, you're inviting resentment, low morale, and skepticism into your company culture. Both small businesses and large companies should exercise inclusivity with users at every level to guarantee that management, employees, and clients will be happy with the final decision.
Failing to Manage Expectations: When pitching a team on an idea, it's easy to make promises that aren't necessarily realistic. The software implementation process should be characterized by communication that is clear and truthful. This will help mitigate frustration, disappointment, and unfulfilled expectations during the software implementation process.
Software Implementation Plans that Work
Successful software implementation plans go far beyond technology and training needs. Successful plans will also anticipate complications and be prepared for some of the most common obstacles that threaten a smooth adoption process. Every software implementation plan should include these elements: 
Determine the Needs and Pain Points of Every User. To successfully choose and adopt new software, it's vital that major stakeholders be invested – especially your committed users. Your loyal clientele should be included in every step of the software implementation process.
Ensure the Vendor Clearly Understands Your Needs: In order to achieve a result that is favorable to every party, it is vital that you communicate clearly and thoroughly with your vendor. Doing so will help prevent dissatisfaction during the implementation process. 
Invest in a Project Manager. Software implementation can be deceptively complicated – despite how simple it may seem. A project manager should be chosen to manage every aspect of the process to mitigate confusion and conflicts that can result from poor communication. 
Assemble a Team for IT Support and User Onboarding. Do not overload the project manager with every project-related issue that may arise. Choose specific "point people" for both IT-related problems and user onboarding problems so people have a designated expert to contact, depending on their specific issue. 
Establish Change Management Best Practices. People are naturally averse to change, and leadership should be prepared for this when adopting a new system. Anticipate this resistance by developing and incorporating best practices in change management.
Encourage User Feedback for Updates and Improvements. The full adoption of new software is not where this process ends. To guarantee long-term user success, seek out user feedback and make the appropriate changes to improve their overall experience.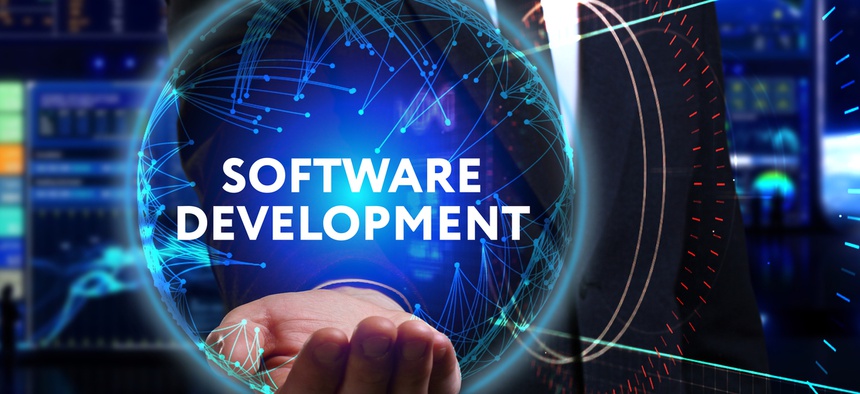 Product Adoption Made Easy
Skip the lengthy and exhausting adoption process with Apty. Apty equips your users to rapidly master new software through real-time tutorials and customized on-screen training, regardless of the program you've chosen. Request a demo today and see firsthand how Apty can improve your organization's software implement software process.