Presentations are indeed powerful tools. In business, presentations can be used to win over customers, partners, and investors. In school, a good presentation can mean the difference between passing a course and flunking in class. And when it comes to personal use, presentations can also be used for events or holidays, bringing families and communities closer together, such as to create a slideshow of memorable pictures.
Having a creatively designed and compelling presentation to help you out is always handy. The problem, however, lies if you don't have much of a creative or design background, or if you just don't have enough time to spare. These pain points are unavoidable, and it would be nice to have a beautifully designed, ready-made template to get you off the rut.
FPPT.com offers a convenient way for you to create stunning PowerPoint presentations with its wide array of free PowerPoint themes and templates that are easily accessible and available for everyone, beginner or advanced users alike.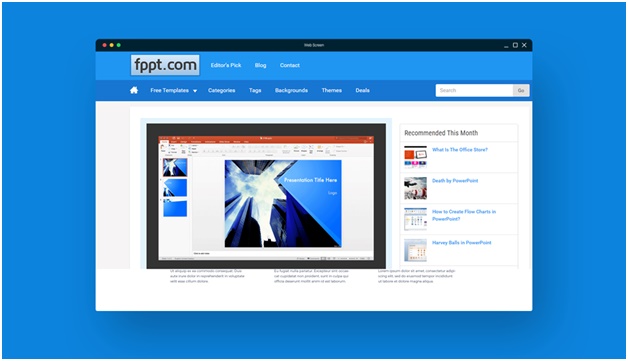 Thousands of Professional and Stunning Presentation Templates
FPPT houses a diverse array of templates, especially made for PowerPoint. Beautifully and expertly designed, these templates will have your slideshows looking eye-catching and captivating. Best of all, these templates are available for free.
The portal offers free, easy-to-download templates for virtually every topic there is. A few examples include business, travel, marketing, health, food, holidays, travel, history, finance, and technology. For easier navigation, you can go over the category list FPPT provides, so you can choose the specific categories you like depending on your topic or theme, such as this Impressum design template.

User-Friendly PowerPoint Templates
The templates are all specifically created for PowerPoint, so you can make the most out of PowerPoint's features, whatever version of PowerPoint you may have. For more current versions, you can enjoy applying new and advanced features to your selected FPPT templates. One such feature is called Design Ideas, which is an exciting addition to PowerPoint's range of new features because it allows you to feature your content in various ways through beautiful layouts. Whatever design idea you choose, you can be sure that your slides will always look expertly designed, while still being consistent with your theme.
At FPPT there are also general-purpose templates that you can easily use for all your presentation needs. They come complete with a title slide and a few more other slide layouts so you can present your data or ideas in different ways in different-looking slides. By the time you finish your slides, they will look polished and cohesive.

There are also PowerPoint templates that are created specifically for a single purpose. These templates include those meant for business purposes, as well as for school reports and holidays or events. Some examples include marketing strategies, financial reports, product roadmaps, brainstorming, meeting minutes, course curriculum, world history, and work plans. Moreover, the hundreds of tags you can browse through include business, medical, nature, abstract, leaves, games, Christmas, inspirational, ecology, people, simple, technology, timelines, and so many more. Therefore, whatever your presentation needs are, you only have to go to one place to find beautiful presentation templates.
The presentation templates provided by FPPT are compatible with major versions of Microsoft Office and PowerPoint. Furthermore, you can also use the templates in other presentation tools like LibreOffice (.odp), Keynote (.key) or even in Google Slides. However, the templates are not compatible with Prezi, which is one of the drawbacks found for this kind of services.

Customizable Templates to Make Your Brand or Personality Stand Out
Whatever template you choose, whether standard or widescreen, you can be sure that you can tweak it according to your need. This will ensure that you will always have an effective and memorable slideshow, where you can easily and clearly communicate your message.
In fact, there are templates that already have subtitles and sample text or placeholders. These make it easy for you to create your own presentation as you follow the guides slide after slide. The placeholders also allow you to see just how well your slideshow will look while keeping you focused on the topics at hand.

While these templates serve as reliable blueprints to guide you in completing your own slideshow, that doesn't mean your presentations should look the same. The templates can easily be customized using PowerPoint's formatting and editing options. Whatever templates you choose from FPPT, you can still further personalize them according to your preferences. You can choose your own backgrounds, apply your own variants, change the color scheme, format the font styles, and even insert your own images and logos.

To get started with creating your own stunning presentations, go to FPPT.com and choose from a wide array of professionally designed presentations for free.