Today's fast-paced world prioritizes production; information and data have transformed into increasingly visual formats, making them quicker and more easily accessible. Consequently, nowadays, the basic in-built screenshot and snipping tools just don't cut it!
Whether you want to capture the entire screen, a selected window or area, record footage from your webcam, create GIFs and instructional videos, or even edit your captured images and videos, downloadable screen capture tools now exist to meet your requirements.
This article will compare ClipClip and Snagit, which are both examples of tools with advanced screen capture features.
An Introduction to ClipClip

Available for Windows, ClipClip is a clipboard management software that increases the capability of your computer's clipboard. It advances productivity by enabling you to copy, edit, organize, and share multiple file types in one single and very simple to use application.
While ClipClip handles text and can be used as a writing tool, it also functions as an advanced screen capture tool. Its related features include contour detection, screen capture, text extraction (OCR), GIF and video recording, pen tool, text annotations, cropping, image enhancement, etc. 
Check Out The Website For a Full List Of ClipClip's features.
An Introduction to Snagit

Available for Windows and Mac, Snagit works as a screenshot program that enables you to capture and record images, video, and audio. When capturing a screenshot, you may crop it immediately on screen before any editing or organizing takes place within its editing program. 
Primarily a screenshot tool, Snagit's features include screen capture, text extraction (OCR), GIF and video recording, pen tool, text annotations, cropping, image enhancement, smart move, etc.
Check Out The Website For a Full List of Snagit's features.
Comparing ClipClip and Snagit
Both tools offer advanced screen capture features, but which one is better? Let's take a closer look at the user interface, pricing, and features of each application.
User Interface
Screenshot tools enable their users to copy, create, edit, and share visual content but these features are useless if the software is difficult to navigate and use. Consequently, we have started the comparison by assessing the user interface of both ClipClip and Snagit.
ClipClip User Interface
The great thing about ClipClip is that it remains hidden and unobtrusive until you need it, keeping your workspace clear. When it's required, the application is easily accessed through the click of a button and users can also customize hotkeys to optimize usage.
Once activated, ClipClip's screen capture tool uses contour detection to automatically pre-select areas of interest, and users can hover over and select what they would like to capture. The tool uses a magnifier for precision and to help crop out whitespace.

While capturing screenshots, ClipClip displays a comprehensive list of commands that can be applied. The built-in editor that appears once users have captured their desired image/video is intuitively designed: simple to understand and enabling effortless interaction. The drop-down toolbar is straightforward but packs in a lot of editing actions.
Snagit User Interface
Similarly to ClipClip, Snagit can be activated using the default Print Screen or via your desired hotkey. After pressing your preset buttons, orange crosshairs appear and allow users to position the cursor to capture their image, video, or the entire screen. The all-in-one capture mode, that opens by default, automatically selects areas of interest and a magnifier is also present.
Once the custom selection is captured, users will be taken to the editor. At first glance, the interface appears busy but, after a few uses, is intuitive and relatively simple to understand. The actions that can be applied are extensive but logically categorized.

The editing window sits in the middle underneath the toolbar, with the toolbar settings on the right and a thumbnail browser along the bottom, allowing users to quickly scroll through their captured images.
Pricing and Features: What's Included?
While Snagit only offers a free 30-day trial and requires that you purchase a license afterward, ClipClip has a free version that will always remain free. However, what features do both of them offer, and which tool offers better functionality?
ClipClip Pricing and Features
Unlike many screenshot tools, ClipClip provides unlimited free image, GIF, and video captures…for life!
The fact that this software is free to use certainly doesn't limit its functionality. In fact, the latest 2020 ClipClip update includes a contour detection feature, which automatically recognizes areas of the screen. This means that users do not need to draw a border around each image that they want to capture, just one click on the pre-selected area of the screen will create a new clip that is ready to edit and use immediately. Not only does this feature increase the speed of image capturing but it also significantly reduces the time spent editing.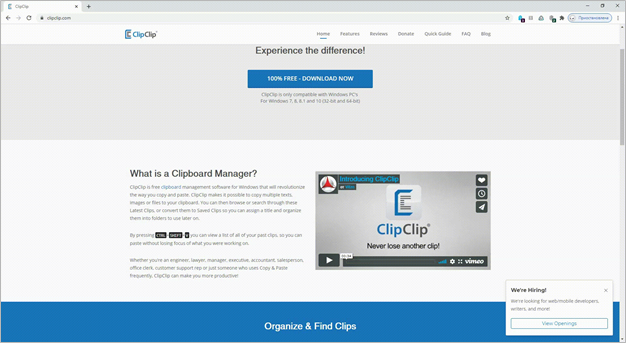 ClipClip's editor tool is also worthy of note and there are no slim pickings here when it comes to actions. Users can enhance their captured clips with transparency, callouts, watermarks, margins, and special effects to create striking visuals and there is a text extraction feature via OCR. Once edited, the tool allows for quick and easy upload to Imgur and other services.
In addition to its ability as a screenshot tool, ClipClip is a complete clipboard management software that allows users to copy multiple file types, including text, HTML, images, GIFs, and videos. ClipClip's comprehensive functionality makes it possible for users to increase their productivity and enables them to optimize all forms of data capture and manipulation with one simple and easy-to-use tool.
Snagit Pricing and Features
Without a doubt, Snagit is an almighty screenshot tool. Nevertheless, it comes at a price. After the 30-day free trial, the software costs users $12.49 every year or they can choose to pay a one-off fee of $49.95.
One of Snagit's main assets is the 'capture' icon which can be triggered at any time to capture images, record videos, grab text, and even includes a panoramic scrolling option. The default all-in-one capture mode works in the same manner as ClipClip, by pre-selecting areas of interest. However, Snagit's feature only works for windows and scroll areas, whereas ClipClip's algorithm enables contour detection at any part of the user's screen. Therefore, in this regard, the latter tool reigns supreme.
Where Snagit truly performs is with its sophisticated editing program. The software's editor makes it extremely easy and quick to make presentations or tutorial guide videos that appeal to many businesses and creative types. The actions that users can perform on captured images and videos are extensive, including tools such as arrows, text, callouts, shapes, etc.

Snagit also has a handy feature called 'Smart Move', which makes it easy for users to play around with layers and objects, dragging and dropping individual elements, resizing them, enhancing them, deleting them, etc. Unfortunately, although users can capture GIFs and videos using Snagit, they will have to purchase Camtasia in order to do any serious editing.
ClipClip vs. Snagit Summary
While it could be argued that Snagit has a more complete editor, ClipClip also provides extensive editing features that are more than enough for the majority of users. What's more, in terms of productivity and efficiency, ClipClip's contour detection is a game-changer.
For users who want a more comprehensive image editing software, then Snagit might be their preferred choice. Nevertheless, ClipClip still offers advanced editing features while also providing unrivaled flexibility, by being able to solve everything using one simple and lightweight software program, as opposed to having to switch between apps and wasting valuable time.
Ultimately, ClipClip has a broader scope of activity, works more efficiently, and makes things much easier to organize. Plus, in contrast to Snagit, ClipClip is completely free to download!