The online world is now hugely dependent on video. Be it instant messaging apps like WhatsApp and Snapchat or social media sites like Facebook and Instagram, video is the instrument of communication that is in currency these days. 
It doesn't matter whether you wish to just view videos as a source of entertainment or are reliant on it for your marketing purposes. In fact, if you are a content creator then you will constantly need to download, convert, resize and edit videos. 
While there are numerous software available in the world wide web to accomplish tasks like converting videos from one format to another and reducing the size of a particular video to make it so that it can be shared on a specific platform, in this post we will take a look at one of the best software for this purpose – Aiseesoft Video Converter Ultimate.
Aiseesoft Video Converter Ultimate
Over 10 million customers have reposed their faith in this tool which lets you convert video files across 1000 formats. Video conversion aside, Aiseesoft Video Converter Ultimate also offers additional features like editing videos to add some effects, compressing videos, and even making GIFs. The tool is available for both Windows and Mac devices. 

Convert Videos Across Formats
The basic problem that all of us face while converting videos from one format to another is that the quality of the video gets affected negatively and the essence of the video may get lost. This problem does not arise when you use Aiseesoft Video Converter Ultimate. 
In the conversion of video from one format to another, the video encoding technology is what matters. Aiseesoft Video Converter Ultimate checks the graphic card level of the video that needs to be converted and then applies the best quality video encoding technology suitable for that video. The software has an in-built video enhancer technology which actually attempts to make the video quality better and makes sure that the quality does not get affected. 
With this software, you can change MKV to MP4, AVI, MOV, WMV, MP3, WMA, and so on. Further, even audio can be converted across multiple formats. One of the most loved features of this tool is that if you have lots of videos that you want to convert, you can also do so in batches. Common conversions across formats like HD, 4K, 5K, and 8K are obviously possible with this software. 
Superb Editing Features
Aiseesoft Video Converter Ultimate provides an array of editing features for you to improve your videos. Filters are the most used video editing tools. With this software, you will get the popular filters and can apply to your video and see if it meets your requirements. General effects like contrast, brightness, and saturation can also be accessed with this tool.

Incorporate Subtitles and Audio
Aiseesoft Video Converter Ultimate allows you to add subtitles to your video. This also includes external subtitles. Even audio can be added to existing videos. The interesting aspect is that the volume of the audio can also be increased or reduced as per requirements. 
In the case of adding subtitles to a video with existing audio, often we face the problem of the subtitles and the audio not being in sync. With the delay feature of this converter, you can rest assured that this issue will not arise.    
Make Your Video as exciting as a 3D Movie 
The Aiseesoft Video Converter has a 3D Maker Tool which lets you add cool 3D effects to your video. The tool is so effective that any video created or edited using this tool can be enjoyed by viewers using 3D glasses. Additionally, the conversion features of the software work in tandem with the 3D Maker Tool. 
Aiseesoft Video Converter Ultimate goes beyond the basic features of a video converter/editor like crop, trim and rotate (which are offered by the best free video converters). It lets you enhance the video quality using Artificial Intelligence (AI). This means even low quality videos can be converted to better resolution without much effort on your part.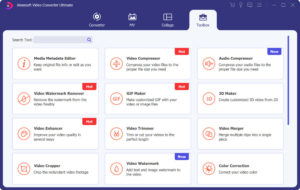 Some subtle features like removing background noise from the audio and reducing the shaking effect in the video so as to make it look more stable are also found in Aiseesoft Video Converter. One can also create amazing split screen videos and remove watermarks from a video using this tool.
Final Verdict – Aiseesoft Video Converter Ultimate is the best tool out there to convert and edit video. If one looks at the number of features that it offers, it is very easy to use too.