Becoming an SEO expert is hard. Reading a lot of material is one of the many ways you can set yourself apart from the competition in your industry. However, there are other things to consider too like opting to work with a SaaS SEO agency, which is important if you work for or run a specialized SaaS company. However, for those who only need basic knowledge, this quick guide is split into four sections and covers the basics of what you need to know to get your website optimized for search engines.
Title and meta description
Title and meta description are two important on-page SEO factors that can help you with your search engine optimization (SEO).
Title: The title is the text that appears in the tab of your browser. It is also the first thing that Google shows in the search results for a page.
Meta Description: The meta description is a snippet that appears below your title in search results, and it tells users what they can expect to see by clicking on your link.

Web page content
Content is the most important part of your website. It should be relevant to your audience and easy to read, understand and navigate. Content must also be unique and updated regularly. You should make sure that you have enough web page content so that search engines can index it easily without having to crawl too many pages to find what they need. In addition, your web pages must be properly formatted with HTML tags such as tags for the title of each web page and header tags on each webpage.
Keywords
Keywords are the most important part of your page. The search engines will not rank your page high if it doesn't have relevant keywords on it. You can use the Google Keyword Planner to find out what people are searching for, and then add those terms to your site. Make sure that you include them in your title tag, meta description, body copy, header tags, and image alt text.
H1 tags: H1 tags are used to introduce the topic of a web page. They should be used only once per page, and they should contain an appropriate keyword.

H2 tags: The main body of your content is typically composed of subheadings that are formatted using H2 tags.

ALT tags: Images can be an important part of your content strategy. This helps search engines understand what it is you're trying to convey through your web pages and improves how well users can navigate through them as well.
Internal linking
Internal linking is a great way to improve the user experience, and it can help you with SEO as well. By internal linking within your website to other relevant content on your website, you can help search engines crawl and understand your site better, and also gives users an easier way to navigate around by using related links on a page.
The best place for internal links is in the body of the content itself – where it makes sense for people reading that piece of content.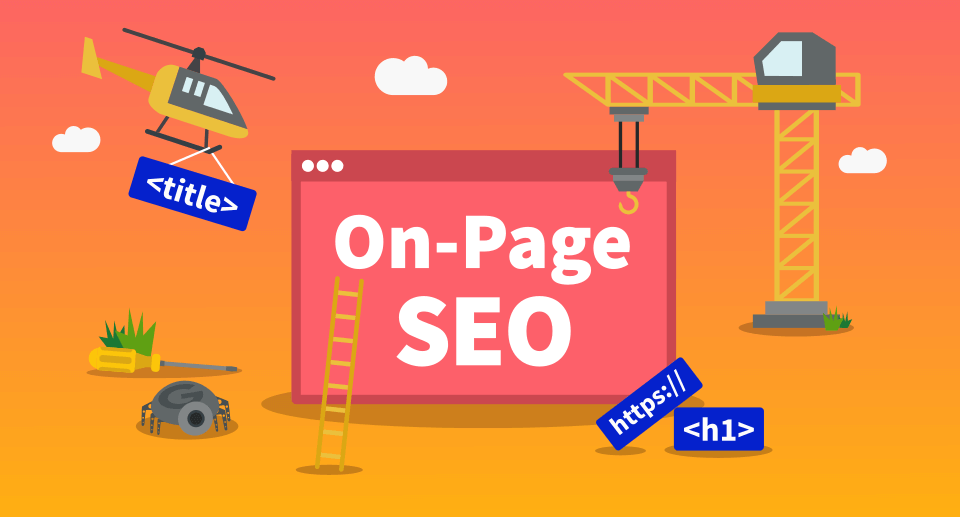 Steps to raise your ranking on Google and other search engines
A good SEO strategy will:
Place your best foot forward. When you create a page, make sure that it's relevant to the keyword phrase you are targeting and is as high quality as possible. Put yourself in the shoes of your audience; what do they need and want?

Be prepared to change things up if Google makes a tweak to their algorithm. If something doesn't work, try something else. Don't give up too quickly though—you may need to wait for Google's update before seeing results or take steps toward improving on-page optimization based on what other sites are doing well vs poorly according to metrics such as bounce rate, time spent on site and scroll depth.

Be consistent with keywords throughout every aspect of your digital presence: website copywriting; social media posts/bios; blog/infographic content; video titles & descriptions; etc.
Conclusion
Hopefully, this has given you a greater understanding of what on-page SEO is and what measures you can take to improve your ranking. Remember that the rules are constantly changing, so it's important to stay up-to-date on what's effective.