LED light strips have become one of the most famous and widely preferred home lighting choices. This is mainly because of their versatility and longevity. Be it for functional purposes or aesthetic purposes, LED light strips do their job correctly. Every room in our house can be made prettier using these LED lights, most of all the living room. Lighting up the living room is one of the most important tasks on our hands. So here are seven ways in which you can use LED light strips to decorate and brighten up your living room.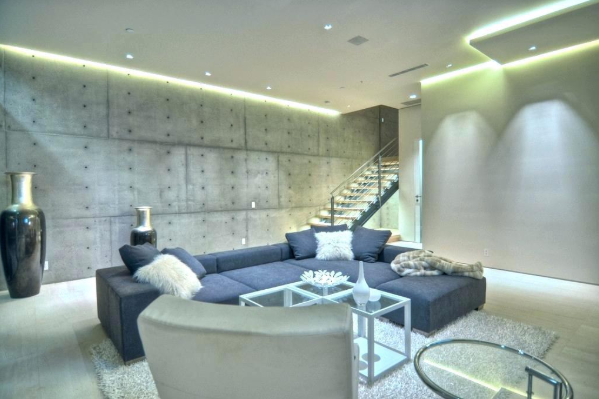 Source:  http://nailbar.pro/20170831205552_led-lights-room-decor/
Lighting Up The False Ceiling
Lighting up the ceiling is one of the most common methods of home lighting solutions. It has been around ever since lights were invented. They provide the maximum light coverage in a given space. However, LED light bulb strips <do-follow> have revolutionized the whole ceiling lighting method. With these, we can create shapes and patterns on the ceiling, line up the borders of the false ceiling or merely accentuate the beauty of the false ceiling. The LED strips also come in a range of cool and warm toned lights which can be used to make the living room look even brighter and trendier!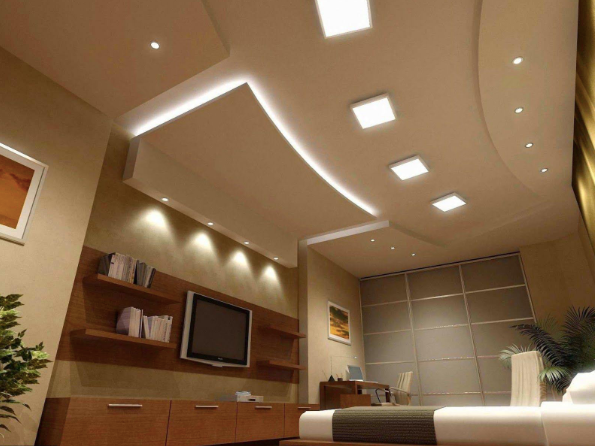 Source:  https://www.pinterest.com/pin/392235448783636270/
Backlighting Large Paintings
Paintings are picture frames naturally a considerable part of the living room décor. When it comes to brightening up space, there is nothing wrong in accentuating the beauty of these significant elements of the room. In fact, they make space look a lot more luxurious and rich. LED light strips placed behind the frames, along with the border of the paintings, make the artwork look a lot more ethereal. On the other hand, the lights won't be too harsh to take away the focus from the artwork. That is the beauty of backlighting.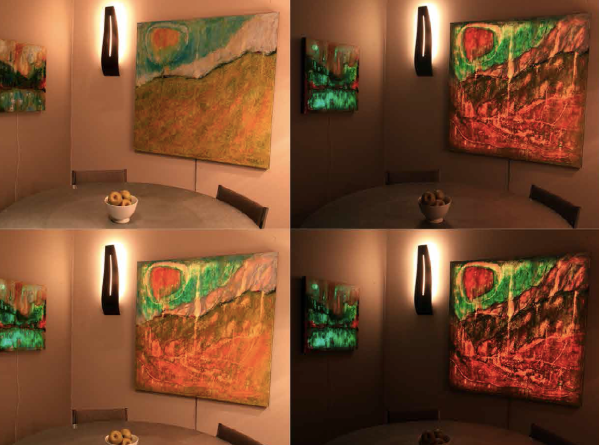 Source:  https://www.led-professional.com/resources-1/articles/leds-reveal-paintings-hidden-in-paintings
Backlighting Large Ornate Mirrors
If you happen to have ornate mirror units in your living room that is a bit accentuated from the wall, backlighting these mirror units are one of the great ways of further adding to its beauty. Ornate mirrors are a charm by themselves, but a little bit of backlighting can bring out its appeal in a subtle and yet profound manner. The light falls on the frame and the carvings on the frame catching the high points to make the simple home décor object come to life! They also do an excellent job for vanity purposes.

Source:  https://www.ecvv.com/product/4830526.html
Lighting TV Cabinets And Wall Units
LED light strips can take your TV cabinets and wall units to the next level. Say no to dull and boring looking wall units, shelves and cabinets. With LED strips, you can line the borders of the cabinets or place the strips underneath the shelves to add some funk to these furniture. They make the shelf look lively and throw focus on the home décor objects placed within their units. To add more drama to these wall units, you can use animated or twinkling LED light strips. This will genuinely up-level the lighting game in your living room.

Source:  https://rightdealsuk.co.uk/caspian-flow-140cm-led-floating-2-drawer-tv-cabinet-unit-wood-effect.html
Lighting Underneath The Furniture
However interesting your living room furniture may be, at the end of the day, people will use them for their functional purposes. They are there for people to sit on and sleep on and that is all they will be noticed for. However, using LED strips underneath the borders of the furniture will truly turn eyes and make everyone look at them in awe. They will throw focus on the uniqueness of the furniture and accentuate them. With the LED lighting options, your furniture will no more be something that is there as a pure necessity. These lights will truly add glow and glory to your living room.

Source:  https://www.thenon-conference.com/install-modern-furniture-landscape-lighting/modern-home-furniture-fun-design/
Focus Lighting Photos And Wall Hangings
Photo frames and wall hangings are another important part of our living room. Framed photos on the wall are our best moments to remind us during tough days and low points. To add even more depth to these photo frames, we can use a thin LED strip on the top of the frame. This is to create a spotlight on the picture, without taking the focus away from the image. If not for photo frames, then all houses will surely have wall hangings and wall decorations in their living room. LED strips can be used for focus lighting the best of your wall hangings too.

Source:  https://www.architonic.com/en/product/focus-lighting-square-270/1179082
Hallway Leading To The Living Room
However small or large, lighting up the hallway that leads to the living room is as important as lighting up any other part of your house. Especially when we're entertaining guests, a dark and dingy hallway may seem off-putting for a lot of them. Do not fret, as the LED light strips can add both light and elegance to the hallways. You can arrange the LED light strips to look like a doorway throughout the hallway to make it look out of this world. While we walk through such well-lit and creative hallway, it feels like a magical land!

Source:  https://www.dhgate.com/product/modern-led-wall-lights-leaf-wall-lamp-for/429757084.html
For simpler versions, you can place these LED light strips on the ceiling of the hallway in parallel lines or create some geometric shapes for a trendier look. Animated lights that look like they are saying, "This way please" to your guests, will be a cool addition to your hallways!
Conclusion
Home lighting solutions are no more a matter of comfort alone; they have become a part of luxury and status. They can brighten up space and fill it with liveliness. They can accentuate even the dullest looking home decors and turn them around to create a magical look. They are the ultimate choice when it comes to making the look of space all futuristic and modern. LED light strips fulfill all the functions mentioned above single-handedly.