Every business owner could benefit from learning the latest digital marketing techniques. Digital marketing can cost-efficiently connect your business with more customers and allow your business to position itself on a more level playing field with your larger competitors.
Digital marketing has become a kind of umbrella term for a huge array of helpful marketing techniques. Everything from search engine optimization and search engine marketing to email marketing full service campaigns, social media marketing, and traditional content marketing are included under the digital marketing umbrella.
The overarching aim behind all of these marketing techniques is driving more organic traffic to your website and increasing your exposure with increasingly mobile customers. Because so much of digital marketing is automated, you'll also be saving a ton of time, money, and effort as you go about increasing your outreach.
Types of Digital Marketing Tools Your Business Needs
Although studies conducted by tech giant Microsoft and other tech behemoths like Google have shown digital marketing outperforms traditional forms of marketing in terms of ROI, conversions and sales increases, your best bet is combining digital and traditional marketing together.
Google also conducted a case study of digital marketing's ROI effectiveness and found that companies that embraced digital marketing alone experienced a 6% uptick in sales. Companies that combined digital marketing and traditional forms of marketing (e.g., print and television advertisements) experienced an 11% increase in sales!
You really want to be reaching out to customers on all fronts—online and with mobile customers through digital marketing and in the real-world through things like print advertisements and even billboards or vehicle wraps.
Digital marketing, though, is an incredible marketing tool for allowing you to stay on your toes and quickly change up your marketing message to meet your customers' changing demands and expectations.


1) Content Marketing
Content marketing should really form the foundation for most other kinds of digital marketing.
The reason is that regularly putting out interesting and engaging blogs, videos, and social media posts form the bedrock of other digital marketing delivery methods, discount coupons, such as email marketing campaigns…
2) Email Marketing Campaigns
One of the more nimble forms of digital marketing is email marketing. With email marketing, your company has the ability to completely control the message: You can send out targeted content based on each customer's position in your sales funnel.
This could mean sending very nuanced content to a customer ready to pull the trigger and purchase from your company (middle- and bottom-of-the-funnel content) or more generalized content to people who've just subscribed to your email marketing campaign's list and want a little more information before taking action (top-of-the-funnel content).

Email marketing campaigns are also a smart choice because they allow you to get very accurate data on whether customers are actually opening your emails, clicking through or choosing to unsubscribe (you don't want that!). Check it out here. For building brand awareness and trust with customers, few things beat email marketing campaigns.
3) Social Media Marketing
Social media marketing is all about using sites like Facebook, Twitter, and Instagram to draw attention towards your business' products and services.
This can be an especially cost-saving form of digital marketing because a lot of it is based around earned media—in this case, user-generated content. There are also really useful social media analytics to help you make sense of it all.


4) Digital Analytics
Nearly half (46%) of marketers said that gauging the ROI of their marketing campaigns was one of their greatest challenges to optimizing their digital marketing.
Your inbound marketing probably could benefit from digital marketing analytics that tell you—in one integrated dashboard—which of your digital marketing efforts is performing best (e.g., social media marketing) in terms of customer acquisition and retention. A/B testing is another way digital analytics helps you get it right from the start.


5) Search Engine Optimization
In terms of getting found in the first place, though, search engine optimization (SEO) is an extremely powerful tool in your digital marketing arsenal. The aim behind search engine optimization is increasing your core website's visibility on major search engines like Google and Bing.
Say you are looking into owning a bakery. You want customers to see your bakery's website on page one of Google's results. The basic idea behind SEO is that through finding out what your customers are searching for on Google and optimizing your website around those keywords (keyword optimization) you can draw more traffic to your website.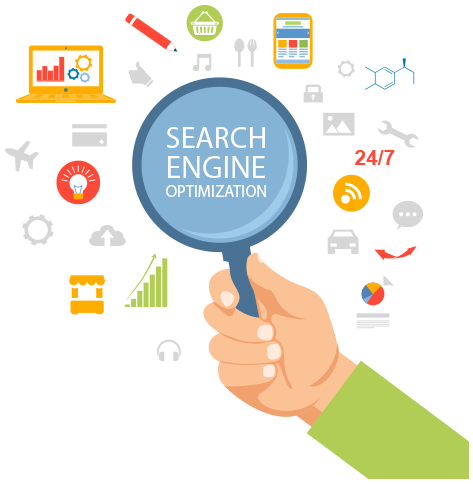 Search engine optimization is a digital marketing tool that shouldn't be missed by businesses looking to expand.