Training your staff to deliver excellent customer service is only half the battle. With most customers now turning to their mobile devices to find out more about a brand before making a purchase, all traditional business types need to make use of virtual resources to maximise their chance of a sale.

Photo by Michal Parzuchoswki on Unsplash
When used correctly, virtual tools don't alienate your customers or de-humanise your business; they help to continue the conversation and cultivate a relationship with your audience when they are no longer visiting your physical location.
If you're wondering what a virtual tool is, it's any online space where people are granted 24-hour access to your brand without needing to visit a physical building.
For the purpose of this post, we have used an independent coffee shop as an example. But the four tools we feature can work effectively in any small business setting. Whether you're a hair salon owner, a tattoo artist or a barista, you should consider implementing them and benefiting from how they can help you to retain a steady flow of traffic, build a stream of regular customers and create ongoing opportunities for a conversation with your audience.
Virtual Landline Numbers 
Google searches conducted on smartphones are often suffixed with the phrase "near me", which indicates that these on-the-go users are looking for quick contact and address details of nearby suppliers.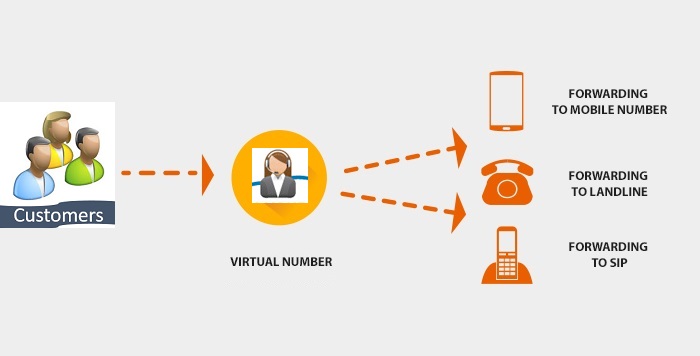 In this case, if you're a small business trying to reduce your overheads, learning about virtual landline numbers is vital.
Imagine you are a local coffee shop with rental fees, staff wages and tons of other overheads to pay for each month. The last thing you want to be doing is forking out for an overpriced phone bill. Let's face it, as coffee roasters, you won't get many phone calls reaching your line. But for those that do, it's worth having a small business phone plan in place.
The difference between making a sale could be as simple as having an updated phone number on your Google Business Profile. This is the small snippet that is shown to users when they search"'coffee stores near me" and highlights key information, including the distance to your store, your star rating and contact details.
If a searcher within a close radius can see you on the search results page, it's likely that they are far enough into their buyer's journey to be ready to make an instant purchase. But first, they might want to make a quick call to check your opening hours, whether you serve hot food and if you have free WiFi.
It's worth having a virtual communication tool in place to snag customers like these. As a coffee shop (or a similarly saturated business), you need to work harder to stand out to the some twenty other coffee shops situated in the same neighbourhood.
A Booming Business Blog
It doesn't matter what industry you work in, owning a relevant business blog is an effective way to market your products and services while attracting new and existing customers via free and informative marketing resources.

This virtual resource should be packed full of useful information that educates your customers as they travel through the awareness and consideration stages of the buyer's journey.
In the case of our coffee shop, you could produce a posting schedule that accounts for various posts concerning coffee. Here are some article examples that a local coffee shop might use to raise awareness about their cafe:
Why You Should Only Buy from Coffee Stores That Promote Fair Trade Coffee
What The Coffee Shop Culture Means for the Self-Employed
31 Examples of Amazing Latte Art [In Photographs] 
These article ideas are likely to get social shares, as they all pull on emotional elements of the coffee shop experience. They also position you (the coffee shop owner) as an expert in your field. If you're the judge of latte art, coffee shop culture and supplier ethics, people will automatically relate your depth of experience with a heightened quality of product and service.
The best thing is, your business blog doesn't have to take up a whole lot of time. Think about your blog as a side project or a hobby that you can enjoy doing. If you truly love your career, it should be easy for you to brainstorm and write about a range of topics. Think of conversations you've had with your customers that you can elaborate on to create an informative and engaging narrative that can be shared with thousands of readers.
Automated Email Campaigns
Email is a virtual communication tool that can be used to effectively remind past customers to revisit your store.

Implementing an automated email campaign allows you to personalise messages to include the first name of your mailing list recipients in the subject header. This, along with using headlines that directly target the customer and include the words "you" or "your" is an effective way to increase your open rate.
For a coffee shop mailing list, subscribers might be keen to be notified each time a seasonal drinks menu is launched. Instead of writing a generic subject line, such as "Our New Christmas Drinks Line Has Launched", try a more direct approach. Take inspiration from the following:
Have you tried our festive drink selection yet?
Which seasonal drink suits you? Take our quiz!
Your favourite festive drink is back on the menu
For busy professionals and introverted students who enjoy a cup of coffee on most days, email is their preferred communication channel. It's not natural to give your customer base a call to tell them that they can now order a gingerbread latte at lunch, but that doesn't mean that you shouldn't tell them at all.
An Integrated Application 
While email is a traditional tool that has worked effectively for decades, mobile applications are only just beginning to flourish.
This virtual tool is particularly effective when targeting millennial buyers, who prefer customised products. An application (once given access) can receive and utilise customer data like purchasing history and location to make recommendations and send out push notifications that are tailored to the individual user.

While not a coffee shop, here's a real-life example of an existing coffee brand that's doing this well. Drink Trade is a website and mobile application that asks the user to take a quick preference quiz before it provides them with a unique recommendation on what coffee blend they should buy.
This type of personalised experience is easily replicated within integrated applications by using data given voluntarily by the user (by filling in a form, for instance). It's no surprise that this trend is blowing up, as users love anything trackable or customisable. Other practical examples include the increased popularity of sleep and running apps that track your sleep patterns and calories burned, respectively, and innovative bank applications that breakdown your finances or invest money on your behalf.
If you're trying to tap into the millennial market, developing an integrated application is a smart way to do it. You can send out timed push notifications to your audience when they're nearby or when they're most likely to be online and looking for what you provide. On top of this, developing an app gives you an opportunity to consolidate your branding and showcase your personality. Coffee franchises are increasingly using applications to lure customers by offering popular loyalty schemes, where if they pay via the app, they can receive a free drink after a certain amount of transactions are made.
About The Author:

Rory Whelan is a communications expert with experience in consultancy, television, media and telecoms. His current position as the marketing manager for a leading virtual call handling provider allows him to liberate business leaders by taking their customer service department mobile and equipping entrepreneurs with an integrated, easy-to-use tool.